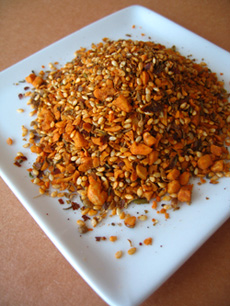 Smoky Oregon Dukkah. Photography by Emily Chang | THE NIBBLE.

Dukkah Recipes
Page 6: Recipes For Fish Dishes With Dukkah
These recipes were developed by Chef Donna Dockins, creator of Oregon Dukkah. This is the first of three pages of main dishes. Click on the black links below to visit other pages.
Recipes: Main Dishes With Dukkah
If you cannot obtain Oregon Dukkah, you can make your own dukkah from the dukkah recipe, seasoning it appropriately.
Serves 4.
Ingredients
1 cup nonfat milk or soymilk
1 teaspoon salt
1-1/2 pounds fish fillets (mild white fish, such tilapia or cod) in 4 pieces
1 cup panko (Japanese style bread crumbs)
Vegetable oil spray
Preparation
Heat oven to 450°F.
Combine the milk and salt in a shallow pan. Add the fillets and coat them well with the milk.
In a second bowl, combine the bread crumbs and the dukkah. Remove the fillets one at a time from the milk, and dip them into the dukkah mixture, coating them thoroughly.
Place the breaded fillets in a baking pan that has been sprayed with the vegetable oil. Spray the fillets with the vegetable oil. Place the pan in the middle of the hot oven, and bake the fillets for 12 minutes or until they are just baked through.
Black Cod or Halibut With Coconut Dukkah & Shredded Coconut
Ingredients
3/4 pounds fish fillet (skin removed)
2 ounces Coconut Oregon Dukkah
Canola or grapeseed oil
Unsweetened shredded coconut (optional)
Salt and white pepper to taste
Preparation
Clean the fillet, pat dry and season lightly on both sides with salt and white pepper.
Roll the seasoned fillet into the dukkah, coating all sides.
Heat lightly oiled skillet over medium heat. Place the coated fillet into the skillet. Lower heat, cook on one side for about 3-5 minutes, then turn fillets. (Cooking time is usually 10 minutes per inch of fish thickness).
Check for doneness; plate and sprinkle the shredded coconut over the fillet. Serves 2.
Continue To Page 6a: More Dukkah Recipes ~ Main Dishes
© Copyright 2005- 2015 Lifestyle Direct, Inc. All rights reserved. Images are the copyright of their respective owners.