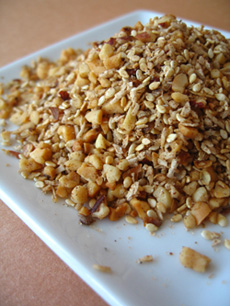 Sweet Oregon Dukkah. Photography by Emily Chang | THE NIBBLE.

Dukkah Recipes
Page 6b: Recipes For Salmon & Prawn Dishes With Dukkah
These recipes were developed by Chef Donna Dockins, creator of Oregon Dukkah. This is the third of three pages of main dishes. Click on the black links below to visit other pages.
Recipes: Main Dishes With Dukkah
If you cannot obtain Oregon Dukkah, you can make your own dukkah from the dukkah recipe, seasoning it appropriately.
Grilled Salmon Crusted With Sweet Dukkah
Serves 4.
Ingredients
1-1/2 pounds salmon fillet, skin on and boned
4-6 tablespoons Sweet Oregon Dukkah
Salt and pepper
Preparation
Rinse and pat dry salmon fillet. Coat both sides of fillet light with olive oil.
Sprinkle flesh side with salt and pepper; pat dukkah.
Place fillet on heated grill, skin side down and close grill. Grill until fish is
cooked through.

Grilled Salmon With Zesty Honey Glaze
Serves 4.
Ingredients
1-1/4 to 1-1/2 pounds of boneless salmon fillet with skin on
1/3 cup of mild honey
2-4 tablespoons of Zesty Oregon Dukkah
Salt and pepper
Preparation
Heat grill. Rub both sides of the fillet lightly with olive oil. Sprinkle lightly with salt and pepper.
Mix honey and dukkah, adding dukkah to taste, in a small bowl.
When grill is hot, place fillet on the grate. Just before the salmon is done, dollop the honey-dukkah mixture onto the salmon. Close the grill for about 2 minutes allowing honey to glaze the salmon.
Remove from grill and serve.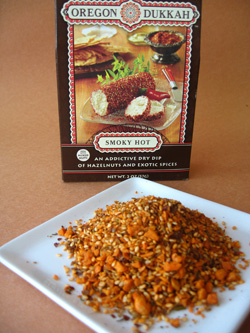 Serves 4.
Ingredients
3/4 pounds peeled cooked prawns with
tail shells intact
1/2 cup good quality mayonnaise
1 tablespoon fresh lime juice
4-6 tablespoons Smoky Hot Oregon
Dukkah
1 lemon, cut into wedges
Preparation
Combine mayonnaise and lime juice
in a small bowl. Place dukkah in
another small bowl.
Platter the prawns with the lemon wedges.
To serve dip prawns into lime mayonnaise and then into dukkah.
© Copyright 2005- 2015 Lifestyle Direct, Inc. All rights reserved. Images are the copyright of their respective owners.