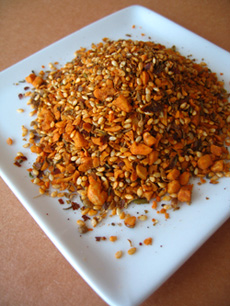 Smoky Oregon Dukkah. Photography by Emily Chang | THE NIBBLE.

Dukkah Recipes
Page 6a: Recipes For Chicken & Lamb Dishes With Dukkah
These recipes were developed by Chef Donna Dockins, creator of Oregon Dukkah. This is the second of three pages of main dishes. Click on the black links below to visit other pages.
Recipes: Main Dishes With Dukkah
If you cannot obtain Oregon Dukkah, you can make your own dukkah from the dukkah recipe, seasoning it appropriately.
Grilled Chicken Thighs With Dukkah Crust
Serves 4.
Ingredients
Preparation
Lightly season breasts with salt and pepper. Place in a zip-lock bag with olive oil and lemon juice. Seal and gently shake, mixing the marinade. Refrigerate for at least 2 hours or overnight.
Remove the chicken from the marinade. Ready the grill. While grill is reaching a medium heat, sprinkle chicken thighs with dukkah, reserving 1 tablespoon. Press dukkah into the thighs creating a coating.
When grill is ready, place the chicken on the grates. Cook chicken on a medium-low heat, taking care not to burn the dukkah. Carefully turn the breasts over several times. Check temperature with an insta-read thermometer. It should read 170°F.
Remove chicken and sprinkle with remaining dukkah.
Grilled Lamb Kabobs With Traditional Dukkah
Serves 4.
Ingredients
2 pounds boneless leg of lamb, trimmed of excess fat and cut into 2-inch chunks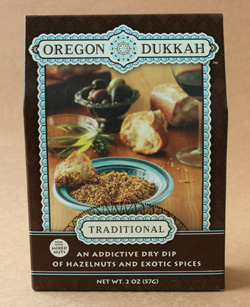 Marinade
Photo by Hannah Kaminsky | THE NIBBLE.
Preparation
Mix all marinade ingredients together, reserving 1 tablespoons of dukkah.
Place lamb cubes in zip-lock bag and add the marinade. Combine ingredients well. Marinate for at least 2 hours or overnight, mixing the ingredients together every so often.
Remove lamb from bag. Skewer lamb and let it rest at room temperature while grill is heating to a medium heat.
For medium-rare, grill lamb for 12-15 minutes, about 3-4 minutes each side.
Sprinkle with remaining dukkah. Serve.
Continue To Page 6b: More Dukkah Recipes ~ Main Dishes
© Copyright 2005- 2015 Lifestyle Direct, Inc. All rights reserved. Images are the copyright of their respective owners.