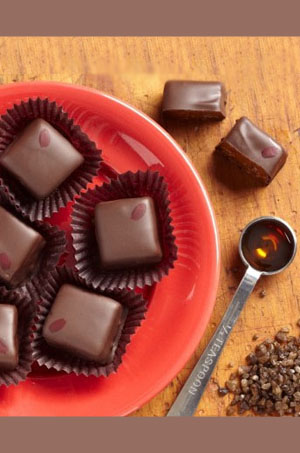 Maple Bacon Chocomels—chocolate caramels—will be a gifting hit. Photo courtesy H.S. Chocolate Company.
WHAT IT IS: Our selection of gourmet gifts for Holiday 2012.
WHY IT'S DIFFERENT: You can't find them on the store shelf, but they're well worth sending for.
WHY WE LOVE IT: Flavor, flavor, flavor.
WHERE TO BUY IT: See individual listings.
Gourmet Food Gifts: Top Picks For The Holidays Or Any Time

Jump to the article index below

You know how this works. Every year, the catalogs start coming and the e-mails begin to arrive.

They promise great gourmet gifts. That's all well and good, but many of these food marketers place quality a distant second to volume. Besides, does anyone really need another gift basket of questionable "gourmet" items?
This year, why not try something different, at least for the food lovers in your life? These recommendations are all for foods produced by small, artisan companies who give a damn about what they make, how their ingredients are sourced and even what kind of impact their products have on the planet.
All merit serious consideration if you're trying to find something for that hard-to-shop-for foodie.
Each link tells you where to buy. I hope you'll be delighted as I've been with these most special of specialty foods.
— Stephanie Zonis