A Gourmet Halloween Gift From John & Kira's

Jump to the article index below

Bags of miniature candy bars line supermarket shelves. Candy corn can be bought in bulk at candy stores. And artisan chocolatiers are introducing their seasonal specialties.
Consider any or all of the fall flavors from chocolatier John & Kira's. This husband-wife team makes some of the best ganache* on the planet, using world-renowned Valrhona chocolate. All three varieties have a shell of 62% semisweet chocolate, meticulously painted by hand, enveloping the silky ganaches.
It's difficult to choose among Apple Spice, Chocolate Orange and Chocolate Pumpkin bonbons. (Get them all!)

All melt in your mouth and are wonderful for Halloween and Thanksgiving gifts...or for an indulgent afternoon eating bonbons in bed like Kitty Packard, the character Jean Harlow played in Dinner At Eight.
*Ganache is the cream-and-chocolate bonbon filling that can be plain (although it's hardly "plain") or flavored. More about ganache.

Chocolate Pumpkins
Dark chocolate, silky caramel and fall spices combine to create the enchanting caramel and spice Chocolate Pumpkins (photo above).
For an even bigger surprise, you can have the chocolates delivered in an Enchanted Carriage, a wrought metal coach that could be Cinderella's, that is a lovely keepsake. Take a look.
Coach or no coach, Chocolate Pumpkins are enchanting.

CHOCOLATE ORANGES: "Are you looking at me?" Bonbons filled with orange-infused white chocolate ganache.
Chocolate Oranges
The chocolatiers call this bonbon Chocolate Oranges. But with its Halloween-orange color and dotted accent, we see them as orange eyeballs (photo above).
See them as you will, the bonbons are filled with white chocolate ganache that has been infused with orange rind and flavored with fresh orange juice and Cointreau. We love the combination of chocolate and orange, and were delighted.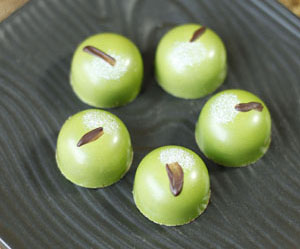 MAGIC CHOCOLATE APPLES: The magic is in the flavor.
Magic Chocolate Apples
The luscious chocolate ganache is flavored with cinnamon, cardamom and apple brandy. Yes, it's magical; but the bigger magic was how these bonbons disappeared in front of our very eyes (and into our mouth).
No matter which flavor you select, nine pieces are $29.00; 16 pieces are $42.00. Find out more at JohnAndKiras.com.
— Karen Hochman