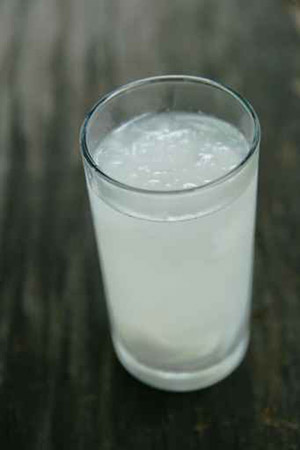 Coconut water is cholesterol free and packed with nutrients. Photo by Muwan | Fotolia.
WHAT IT IS: Liquid from the interior of immature (green) coconuts.
WHY IT'S DIFFERENT: The terms "coconut water" and "coconut juice" are used interchangeably for a watery liquid that is about 46 calories a cup (varies by brand; flavored waters are higher). Much higher-calorie products are coconut nectar, a sap from the tree (analogous to maple syrup); coconut milk, pressed from the dried meat of the mature coconut; and coconut cream, a thicker version of coconut milk (less moisture).
WHY WE LOVE IT: Another option for a refreshing drink that's low in calories and high in vitamins and minerals.
WHERE TO BUY IT: At retailers nationwide.


Page 4: Coconut Water Nutrition
If you're overwhelmed by the health claims for coconut water, discussed on the previous page, you'll find this section to be short and sweet.

Nutrition Information For Coconut Water
What will one cup (eight ounces) of coconut water set you back? What will it bring to your daily nutrition?
First, there is no "one count fits all" in food. Your "medium apple" may be 50% larger than mine.
The numbers below are an average of what you can expect to find when you read any given brand's nutrition facts label. For example, the coconut waters we reviewed ranged from 38.5 to 50 calories per eight-ounce cup (with two anomalies that were 64 and 76 calories, respectively). Sodium, sugar and other components vary as well.
Calories:

46
Calories From Fat: 4
Total Fat: 0.5g (DV* 1%)
Saturated Fat: 0.4g (DV 2%)
Monounsaturated Fat: 0.0g
Cholesterol: 0mg
Sodium: 252mg (DV 11%)
T

otal Carbohydrates:

8.9g (DV 3%)
Dietary Fiber: 2.6g (DV 11%)
Sugars: 6.3g
Protein: 1.7g
Calcium: 6% DV
Iron: 4% DV
Vitamin A: O% DV
Vitamin C: 10% DV
*Daily value based on a 2000-calorie diet.
Why Coconut Water Is Good For You
Cholesterol free
High in calcium, phosphorus, riboflavin and thiamin
Very high in dietary fiber, magnesium, manganese, potassium and vitamin C

What You Should Be Aware Of
High in sodium
Very high in sugar
Continue To The Next Page: Reviews Of
Coconut Water Brands