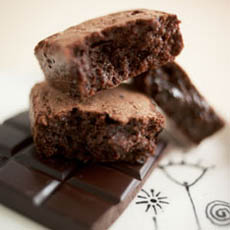 We love the chocolate, brownies, and just about everything from
Recchiuti Confections
in San Francisco—but we live in New York. We'd never have known about them, if we hadn't found them during a visit. But we can't be everywhere—we need scouts like you!


Nominate a Nibble ~ Send Us A Tip
Tell Us About Your Favorite Foods
Products For Review
We'd love to hear about products that you think are outstanding—"the best of the best." Nominate a Nibble by following this link to our Comments and Suggestions form. PLEASE BE SURE TO INCLUDE:
The name of the product and the manufacturer
Type of product (e.g. barbeque sauce, cookie, frozen yogurt)
Where we can find it online; or if you don't know the manufacturer's URL, provide the phone number and city/state from the package
In your opinion, what makes it so much better than all of the other products of its type
The Daily Nibble™ Tip of the Day
To submit a Tip of the Day, click here.
If you need more information about what counts as a Tip of the Day, click here.


Related Food Videos:



For more food videos, check out The Nibble's Food Video Collection.


© Copyright 2005-2015 Lifestyle Direct, Inc. All rights reserved. Images are the copyright of their respective owners.