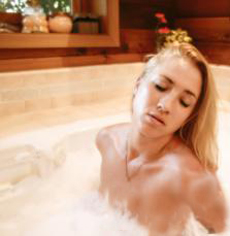 Luxuriating in all-natural food-infused bath water—oatmeal, peaches, mango, cocoa, or raspberries—is a unique and splendiferous experience. Photo by Jyn Meyer.
KAREN HOCHMAN believes the world would be a kinder, gentler place if more people had the time to relax for half an hour a day in a quiet, calming bath.
November 2005
Updated October 2006

Hella Good Bath Scrubbies
Please Don't Drink The Bath Water!
An "instant spa" bath product made out of all-edible delights.
Our first Hella Good bath scrubbie—the Let Them Eat Pumpkin Pie bath scrubbie—was a memorable experience that now must live in memory, as the company has added new "flavors" and furloughed this delicious miracle. We stepped into the bathroom, naive as to the nature of a "bath scrubbie," and emerged a convert at $7 a bath.
The scrubbie—we shall describe it in a moment—converted our bath water into a magical brew of essence of pumpkin pie. We floated in milky water scented in pumpkin, cinnamon and nutmeg. We emerged, calm and nurtured, our essence merged with that of the pie. Yes, we smelled, in the nicest way, like a pumpkin pie—so natural and delicious that had we been hungry, we might have taken a bite out of ourselves. Instead, we enjoyed our pumpkinness, some classical music and a good book, until a few hours later we noticed that we were no longer Cinderella at the ball listening to Mozart with Edith Wharton, but merely Ella in a bathrobe with a kitchen to clean.
A bath scrubbie, as created by Hella Good, is a drawstring muslin bag filled with real food ingredients that are both cleansing and fragrant. Oatmeal, a traditional cleansing agent and dry skin curative, form the base of the line; other foods—dry milk, tea, cocoa, fruits —are added to create the different flavors. Drop the muslin bag into the bath water, the contents soften and infuse the water, and you then step in and use the bag as a wash cloth (it can be used in the shower this way as well).
The only leap of logic in this straightforward (we hope) explanation of these wonderful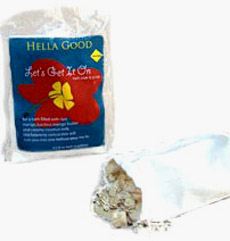 products is the naming of some of them. What could be exciting enough as bath scrubbies named Chocolate-Covered Strawberries or Tropical Mango Coconut are instead given hip names with no significance whatsoever—Batteries Not Included and Let's Get It On, requiring you, the consumer, to ask for something with a ridiculous name; and requiring the manufacturer to give sub-titles of "Chocolate Covered Strawberries" and "Mango Coconut" to explain the obscure names they should never have given their products in the first place. Nor can we explain why Tea for Two, which is actually made with green tea, isn't called something more along the lines of Call Me or Stiletto Heels, since surely the company isn't suggesting that one scrubbie be used by two different people.
But, instead of blaming the Hella Good ladies for bad marketing, let's laud them for fine product formulation, including:
Batteries Not Included, a.k.a. Chocolate-Covered Strawberries (oats, strawberries, chocolate, cocoa butter, sodium chloride, fragrance)
Hawaii Five-Ohhh! a.k.a. Pineapple (oats, coconut milk, mango butter, sodium chloride, real pieces of pineapple, fragrance)
Hot & Steamy, a.k.a. Cocoa & Marshmallows (oats, nonfat dry milk, cocoa butter, marshmallows, organic cocoa powder, sodium chloride, fragrance)—along with the late lamented Pumpkin Pie, our favorite, like bathing in a large tub of cocoa
Let's Get It On, a.k.a. Mango & Coconut Milk (oats, dry coconut milk, mango, mango butter, sodium chloride, fragrance)
Naughty Or Nice, a.k.a. Candy Cane (oats, cocoa butter, dry milk powder, sodium chloride, fragrance, glitter, candy cane and holiday cheer)
Not That Innocent, a.k.a. Chocolate Raspberry Truffle (oats, cocoa butter, raspberries, sodium chloride, fragrance, organic cocoa powder and a dash of spontaneity)
Original Sin, a.k.a. Caramel Apple (oats, cocoa butter, nonfat dry milk, apple, sodium chloride, fragrance)
Sexy Mo Fo, a.k.a. Vanilla Sugar Cookie (oats, nonfat dry milk, mango butter, white granulated sugar, glitter, sodium chloride, fragrance, raspberry and love, love, love)
Smooth Operator, a.k.a. Peach (oats, nonfat dry milk, peaches, cocoa butter, sodium chloride [salt], fragrance)
Tea For Two, a.k.a. Green Tea & Mango (oats, green tea, mango butter, sodium chloride, fragrance)
You could eat them, except for a bit of fragrance in each bag (although if you were trapped in a ski cabin after an avalanche with a few cases, they could keep you alive).
We love these products: with the price of a "feel good" cappuccino upwards of $5.00 for a little lift that lasts ten minutes, this is a guaranteed two-hour, calorie-free high that costs not much more, will excite your significant other, and is something to tell all of your friends about. Speaking of which, we must revert to our earlier, and only, gripe that the two young women who founded Hella Good have limited the appeal of the scrubbies with these silly names instead of instead of taking a broader approach:
At $7 a bath, this is s a luxury product and not something that the younger set will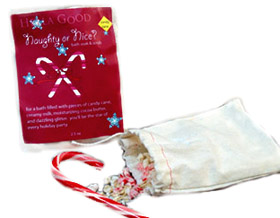 purchase by the dozen. Even if they see Hella Good as a younger line, this is not just another sugar scrub but a crossover product. Appealing to the 40-year-old Saks Fifth Avenue customer, and enabling gifting to all moms and grandmothers (given that they stress dry skin) might do a world of good for this fledgling company's sales. We personally would like to give Hella Good scrubbies as gifts, but would have to do so with the caveat, "This is a truly unique and wonderful product, just ignore the name," so that our friends who are bankers and partners at law firms don't wonder why we are giving them items that sound like they should be sold at naughty lingerie parties. You can have a concept for your line that's cute and tongue-in-cheek but still can be enjoyed by women who don't fall in your target age group. A stroll down the aisles of Sephora proves that.
But, back to the goods: the wrapping slips off quickly, and it's what's inside that counts.
If you're a bath person, you'll love the Hella Good bath scrubbie experience.
If you're a food person, you'll love the Hella Good bath scrubbie experience.
If you're a spa person, you'll love the Hella Good bath scrubbie experience.
If you need a quick way to relax and refresh each week, you'll love the Hella Good bath scrubbie experience.
And if you're all of the above...start with a dozen.
HELLA GOOD PRODUCTS

Bath Scrubbies

2.6-Ounce Scrubbie
(One-Time Use)
$7.00 and $8.00*

To purchase, click on the links:

Prices and product availability are verified at publication but are subject to change.





Related Food Videos:



For more food videos, check out The Nibble's Food Video Collection.


© Copyright 2005-2015 Lifestyle Direct, Inc. All rights reserved. Images are the copyright of their respective owners.