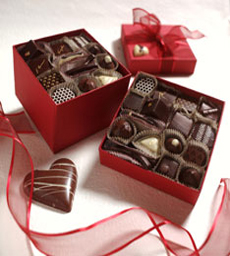 No one will refuse to be your valentine with a large box of handmade chocolates from San Francisco chocolatier
Michael Recchiuti
.


OUR VALENTINE TO YOU...
...is this first issue of THE NIBBLE™ online magazine. In response to requests from readers of our weekly e-mail newsletter for more product reviews and more information about specialty foods, we have created this new format.
The newsletter will still focus on one weekly product. Here online, you'll find many more product reviews each month, along with regular features, how-to's, glossaries, entertaining ideas and recipes. Our goal is to seek out the best specialty foods for every day as well as for special occasions, and offer suggestions beyond the obvious on how to enjoy them.
If you're not already a subscriber to THE NIBBLE's weekly newsletter, each Tuesday we e-mail our top food pick of the week to opt-in subscribers. It's free—just click here to have it delivered directly to your e-mailbox. Of the thousands of specialty foods we taste each year, these are our favorites for both home use and gift-giving. You won't want to miss them!
As we evolve our content and our format, we look forward to your comments and any suggestions you have about how we can make THE NIBBLE™ magazine and newsletter more valuable to you. Click here anytime to send us a note.
Cordially,

THE NIBBLE™ does not sell the products we review or receive
fees from recommending them.
Our recommendations are based purely on our opinion,
after reviewing thousands of products each year,
that they represent the best in their respective categories.




© Copyright 2005-2021 Lifestyle Direct, Inc. All rights reserved. Images are the copyright of their respective owners.