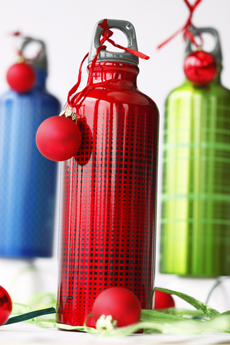 Tote around a festive water bottle this holiday season. Photo by Katharine Pollak | THE NIBBLE.

Kitchen Gift Ideas
Best Kitchen Stocking Stuffers For 2010
Our 2010 picks for best kitchen stocking stuffers are both festive and useful. From cute rubber gloves that make housework seem like less of a chore to colorful water bottles to tote around this holiday season, you're sure to find something for someone on your list.
Also be sure to check out this year's Kitchen Tools And Gadgets List. See all of our 2010 holiday gift lists.
Prices and product availability are verified at publication but are subject to change. Shipping is additional. These items are offered by a third party and THE NIBBLE has no relationship with them.
Comfy Bath:

Gloveables Fashion Rubber Gloves


Any woman will feel glamorous while doing housework with Gloveables. These fashionista rubber gloves are to-die-for. They're available in several different colors, styles and patterns from roosters (in photo at right) to black leopard prints to ginghams and polka dots. Cleaning house has never been so much fun!

Comfy Bath Gloveables
A Variety Of Colors & Patterns
$12.95

Buy online at ComfyBath.com


New Wave Enviro:

Stainless Steel Water Bottles


This durable and reusable stainless steel water bottle comes in festive colors for the holidays, including Ice Blue Stainless Steel, Red Stainless Steel and the Green Stainless Steel. Natural Brushed Stainless Steel and Turquoise Stainless Steel are also available. A carabineer is included for easy attachment to belt or backpack

New Wave Enviro Stainless Steel
Water Bottles
20.2-Ounce Size In Jeweltone Colors
$4.99-$12.99

Find a store locator near you by visiting EnviroProductsInc.com or buy online at Amazon.com.


Photo by Katharine Pollak | THE NIBBLE.

Tea Forté
Perfect Measure Spoon

Should it be level, heaping or rounded? Many people are unsure of how to measure a teaspoon of loose tea. Steep perfect tea time and again with this deep-forged stainless steel loose tea measuring spoon. Each spoon brews one perfect cup.

Tea Forté Perfect Measure Spoon
$6.00

Buy online at TeaForté.com


Photo courtesy Tea Forté.




© Copyright 2005- 2023 Lifestyle Direct, Inc. All rights reserved. Images are the copyright of their individual owners.