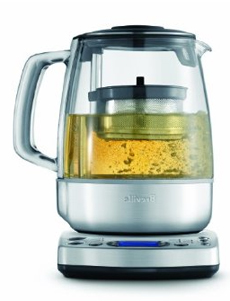 Brew the perfect cup of tea with just the press of a button with the Breville One-Touch Tea Maker. Photo courtesy Breville.
November 2010
Last Updated December 2010

Kitchen Gifts
Best Kitchen Gifts & Appliances For 2010
Our 2010 picks for best kitchen gifts and appliances revolve around making your life just a little bit easier. We've picked the best one-touch tea and coffee makers and other appliances to dry your dishes faster and keep your food hot longer.
Also be sure to check out this year's Kitchen Tools And Gadgets List. See all of our 2010 holiday gift lists.
Prices and product availability are verified at publication but are subject to change. Shipping is additional. These items are offered by a third party and THE NIBBLE has no relationship with them.
Bon Home:
Culinary Heat Lamp


Wish you could keep food warm like they do at restaurants? Bon Home's Culinary Heat Lamp is the first heat lamp designed for everyday use in the home. This smart appliance features a ceramic heating element which eliminates bulb replacement and provides focused infrared heat for sealing in moisture and flavor. For the kitchen or the buffet, it rocks.

Bon Home Culinary Heat Lamp
$99.95

Buy online at BonHome.com





Your own professional-style heat lamps. Photo courtesy Bon Home.

Bon Home:

Heat & Dry Dish Rack


Dry dishes in approximately 10 minutes—on your countertop! The first of its kind, the Heat & Dry Dish Rack is much faster and more sanitary than towel drying. The heated airflow dries dishes quickly and effortlessly with whisper quiet precision. It's perfect for hand-washed items too delicate to put into the dishwasher—like fine crystal.

Bon Home Heat & Dry Dish Rack
$99.95

Buy online at a discount at BonHome.com


Let hot hair dry your dishes. Photo courtesy Bon Home.

Breville:

One-Touch Tea Maker


The One-Touch Tea Maker has forever changed the way we brew tea. With the perfect temperature per type of tea (black, green, herbal, white) and your instructions on how strong you want it, this Breville beauty brews the best tea we've ever had. Even teas we haven't liked taste amazingly better. It's fun watching the tea basket lower and brew. You can auto-set the appliance so tea is ready the minute you get out of bed, get home, etc. We are in love with this appliance. It's worth every dollar!

Breville One-Touch Tea Maker
Stainless Steel Color
$249.99

Buy online at Amazon.com


Our "Appliance Of The Year." Photo courtesy Breville.

Broadway Panhandler:
Butter Churn


It's fun, it's easy and it makes absolutely delicious fresh butter. For families who care about the freshest food, you can't do better than make a pound of butter whenever you want with this French import. All that's required is a pint of heavy cream to make a pound of butter. The economics: 1 pint heavy cream $2.99, 1 pound butter $3.99. The fun of making it: priceless. Here's a tip: The instructions tell you to drain off and dispose of the liquid. Keep it and drink it—it's 8 ounces of wonderful half-and-half.

Broadway Panhandler Butter Churn
$109.95

Buy online at BroadwayPanhandler.com


Churning butter at THE NIBBLE. Photo by Katharine Pollak | THE NIBBLE.

Keurig:

B60 Special Edition Home-Brewing Coffee System


This handsome single-serve system offers a choice of more than 70 varieties of coffee, tea* and cocoa. Whether you want Folgers in your cup, Green Mountain Kona Blend, organic or flavored coffee, all you do is insert a K-cup and press a button. It's a pleasure not to deal with coffee grounds; just toss the neat K-cup. With an extra-large water reservoir—73 ounces—you're set for the week. Featuring chrome accents and a blue, backlit LCD display, the Special Edition Keurig allows you to program water temperature, set a digital clock to brew while you're still in bed, and make just enough to fill a small, medium or large cup. The removable drip tray accommodates travel mugs.

Keurig B60 Special Edition
Home-Brewing Coffee System
$139.95

Buy online at Keurig.com



Just press the button. Photo courtesy Keurig.

*Tea lovers should use a different system: tea leaves or bags that steep in boiling water. Forcing water rapidly through ground coffee makes a good cup; forcing it rapidly through ground tea doesn't.

Thermador:
Steam & Convection Oven

Want to treat a serious cook to the latest in exciting kitchen equipment? Thermador's new Steam & Convection Oven is the luxury-appliance industry's first pre-programmed appliance to combine three distinct cooking options—steam, true convection and a combination of the two. Steam and steam combination cooking ensures moist and tender results, and that taste and color is retained. Fewer vitamins, minerals and other nutrients are lost with steam cooking—and there's no need to add oil or other fat! The convection portion of the oven is for crispiness and browning.

Thermador Steam & Convection
Oven
$2,999.00

Buy online at AJMadison.com


The oven has a 1.4-cubic-foot capacity and includes 40 automatic food programs, nine advanced cooking modes and a series of advanced features that are geared toward the true cooking enthusiast. Photo courtesy Thermador.




© Copyright 2005- 2023 Lifestyle Direct, Inc. All rights reserved. Images are the copyright of their individual owners.