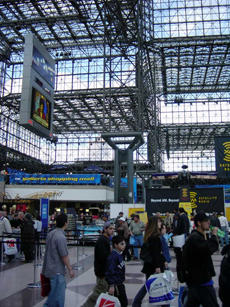 The Javits Center, New York City.
KAREN HOCHMAN is founder of THE NIBBLE. Among her previous occupations, she was VP of Marketing at two B to B companies in two industries. Her trade show strategies generated new accounts, built the companies' prospect database...and won "Best of Show" for the booths every year.

Trade Show Tips
How To Generate More Business From Trade Shows
Overview
You've spent a lot of money for the booth and the marketing materials, and possibly even more that that to transport everyone to staff it. Now, how to you leverage the expense, and your time, to:
Write more business?
Attract more prospects?
Maximize your media exposure?
Planning
Yes, you're tapped out just running your business and have no time to think about it. But carve out half an hour for a working lunch with your key people and brainstorm (include your advertising, PR and other marketing, sales and creative consultants).
What offer would would make buyers and the press make a point of coming to your booth?
New Products: That's obvious, and everyone else will have this offer, too.
People Of Interest: The opportunity to speak with product formulators, design directors, merchandising consultants, et al. For a big company, the CEO is often a draw. Announce specific hours of the day when the person will be in the booth.
Special Tastings Or Demonstrations: Product pairings (e.g., chocolate and wine, beer and cheese, food and tabletop), appliance demos, merchandising ideas (general or occasion-specific, e.g., Super Bowl or Mother's Day).
Prize Drawings: Even if you normally would be sampling all 10 of your salsas and 6 different taco chips, you can make it sound more exciting by inviting people to nominate their favorite pairings at your Salsa Bar; their vote becomes their prize entry ticket. Ask for "new flavor suggestions" and you might get some interesting ideas.
Booth Themes: While the merchandise is the focal point, if you don't have an elaborate custom booth, you can dress up a more standard booth with a thematic overlay based on the season, the location of the show, or anything timely or merchandise related (if your new product is macadamia-flavored, e.g., a Hawaiian theme). A few palm trees, a surfboard, a couple of hula girls sampling product, ukulele music (if your show management allows it), and Hawaiian shirts and leis for the booth staff. Don't forget a banner that says, "Meet Our New Macadamia Crunch Line."
Receptions: These are expensive and can conflict with other cocktail parties, breakfasts, and business meetings; but they may be right for you. You might consider inviting a select group of people to a buffet lunch in your booth, or to breakfast or lunch in a rented room in the convention hall. Why stand online at the Starbucks concession when there's graceful dining at your venue? A rented room is also a quiet place to present your line.

Advance Notice
Invite the press and key buyers 3 to 4 weeks in advance. If you are an exhibitor, the show management generally gives you the registrant contact information. However, many press and others don't register far enough in advance; so you also need to build and maintain your own house list (see our Media Kit article).
Don't rely on e-mail alone. People get too much e-mail and delete those that aren't critical to getting their work done. Send hard copy as well.
Postcards are fine. They're also easy to tuck into a folder or agenda to bring to the meeting—a busy executive doesn't always have to stop to put the data into a PDA. You can have photo postcards printed inexpensively,
Your invitation should name a contact: Include the phone and and e-mail of a person at your organization who can be reached for additional information. This should be someone who will be reachable during the show.
Do not make the mistake of sending out a promotional e-mail or invitation a few days before the show, thinking that a reminder close to the date is the best strategy. People are bombarded with e-mails and press releases when they are already working overtime just to finish their regular work, so they can be out of the office for several days to attend the show.
Media Kit & Press Room Strategy
You must have a pile of media kits, press releases or post cards in the Press Room (a.k.a. the Media Center). Most members of the press stop there first to look through the media kits for new and interesting products and other news. See our detailed article on media kits.
A press kit gets seen. Many shows keep getting bigger, and a journalist can't get to every booth. Similarly, it's easy to get overlooked in crowded aisles. If you have a printed presence in the Press Room, at least you'll get seen, and the journalist can follow up after the show.
You don't have to spend money. You don't have to spend a lot of money on your leave-behind. Journalists know that small companies don't have large budgets. They're looking to discover hot items, not stylish press kits. Custom-printed and embossed folders are nice, but simple clear plastic ones do the trick; or just leave your line sheet stapled to a news release. If that's all you're including, the folder isn't needed (it's nice to put together a package; but not mandatory). If all you leave is a colorful postcard, that's fine too. It's the message, not the medium.
Some important guidelines for maximizing your exposure in the Press Room:
Put your booth number on your materials. Any materials you leave in the Press Room must have your booth number on it. You can use stickers or hand-write it; just be sure it's there. Journalists don't have the time to look up 100 booth numbers in the show directory.
Replenish your materials. Check after lunch and first thing in the morning to replenish your stock.
Can you leave samples? If you can include sample sizes of your product in the press kit, it's a good idea. If you can't swing it, always be sure your press materials include an offer to call for samples. In terms of full-size samples, each show has a different policy. Some welcome the contribution of food samples to the refreshment area, where it's a great opportunity for press to try your product. Others limit sampling to what can be included in the press kit. Just be wary that you may have to replace them frequently: People will only take one press kit, but are likely to take more than one food sample. Supplies deplete quickly; and you have no idea when the people who are most likely to write about you will pass through and the Press Room.
Be tempting, but not too tempting. The only thing that isn't so great is that some people take more than their fair share—in fact, they can take it all. At one food show, we saw one person remove every single bracelet charm used to tie dozens of pretty bags from a sorbet manufacturer, and another removed all of the $5 gift cards from another company's press kits. While we're all supposed to be professional, some people who gain access to the press room are less professional than others.
Bring a counter display. Some press rooms have room for them—you never know until you get there. But as Louis Pasteur said, chance favors the prepared mind...and by extension, the prepared manufacturer. If there is room for it, a stylized store counter display could do wonders when trying to attract customers. We have seen press materials in wicker baskets, in tin wine tubs and attached to artificial tree trunks. If you can bring a display package of your products, either shrink-wrapped in a gift basket so no one will take them, or covered by a lucite display box, you will call more attention to yourself. Be sure a descriptive sign with your booth number is packaged into, or affixed onto, the display.
Scheduling Promotions In Your Booth
It's good to think of activities to bring people to your booth—book signings, experts in your field, and so forth. It creates a buzz, and can make your booth look like a happening place, for a brief period of time. But before you spend the money to bring celebrities or experts to the show, think of the payback.
Logistics. Shows are physically so huge; will the people you want to attract to your booth plan their day around the hour of your event? If your booth is in the middle of a 6-block-long convention center, for example, and they begin Day 1 at Block 1, what's the likelihood that people will race 3 blocks to see your presenter?
Broad-Spectrum Promotions. Might some other kind of traffic-generator work better—one that people could participate it whenever they passed your booth? For example, people like giveaways; invite them to pick up their premium. Have people select the new flavor from three contenders. Or, have an attraction that can occur all day long, such as a cake decorator or a pizza chef spinning dough.
Capturing Foot Traffic At Your Booth
The retail business is very focused on writing orders of the moment. Other industries recognize that today's browser is tomorrow's buyer, and cultivate those leads.
What about browsers who aren't ready to write orders at the show? If business is so good that you don't need prospects, skip this tip. If you'd like to have a prospect database, read on.
Often your booth is too crowded, or you're too busy, or your prospect is in too much of a hurry to stop. Give them an option to connect with you:
Have a bowl to collect cards. Have a prominently placed bowl or basket at the front of your booth with a sign that says: Drop Your Card Here to Win a Case of [your product].
In smaller type, say: If you have a specific request, write it on your card and we'll follow up.
Then, if people want a catalog, or want to know pricing or whatever, they'll let you know. And, you'll have a prospect list to call on slow days.
Put your prospects on your media list, along with current clients and friends of the firm, to receive catalogs, news releases and other marketing communications.
If you think this doesn't work, try it and send us a commission on the new business!

If you have comments or suggestions, we'd love to hear them. Click here to send us your thoughts.