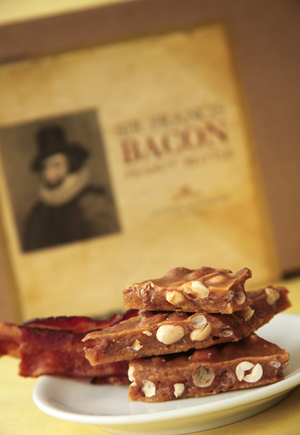 The sophisticated way to enjoy peanut brittle: with bacon inside. Photo by Katharine Pollak | THE NIBBLE.
WHAT IT IS: Premium peanut brittle with artisan smoked bacon.
WHY IT'S DIFFERENT: It may become the rage, but currently bacon brittle is hard to come by!
WHY WE LOVE IT: This is our second brand of bacon brittle. The first was a disappointment; this is the real deal.
WHERE TO BUY IT: BaconPeanutBrittle.com.

Squealing With Delight:
Sir Francis Bacon Peanut Brittle
CAPSULE REPORT: Sir Francis Bacon, Lord Chancellor of England under Queen Elizabeth I, was an author, lawyer, jurist, philosopher and scientist. But he most likely never had bacon peanut brittle. For surely, it would have become as popular as English toffee.
In his honor, two baconeers from Atlanta are making Sir Francis Bacon Peanut Brittle.
The brittle is produced in small batches in copper kettles. Buttery, salty, smoky and crunchy, this all-natural confection will find fans among everyone who likes bacon.
The sweetness is kept at a sensible level, so there's no "cloy factor." The chocolate bacon brittle is a kind of yummy bacon buttercrunch.
The packaging looks like it could come from the 17th century—except for the pig snout mask that Sir Francis sports.
What wine to serve with bacon brittle? Champagne!
Send Sir Francis Bacon Brittle to dads, grads and bacon lovers everywhere. Read the full review—see the article index below.