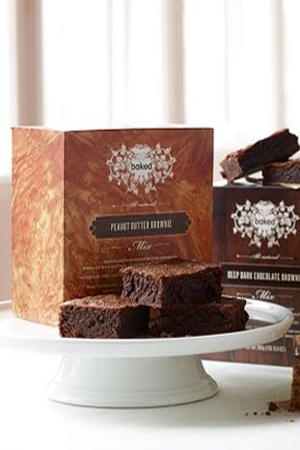 Baked's premium brownie mix collection is the best we've ever had. Photo courtesy Williams-Sonoma.
WHAT IT IS: The finest brownie mixes from a top NYC bakery.
WHY IT'S DIFFERENT: Superior ingredients such as Callebaut and Guittard chocolate, in elegant, classic recipes.
WHY WE LOVE IT: Just add butter and eggs, mix, bake, and relish the results.
WHERE TO BUY IT: Williams-Sonoma.com and their retail stores.

Best Brownie Mix, From A Top NYC Bakery
CAPSULE REPORT: Most brownie mixes leave us cold. Not only is the chocolate and/or cocoa second-rate, but many mixes also use cooking oil as the fat. That's no way to make a deep, chocolatey, buttery brownie.
It's easy to see why the new brownie mixes from Baked NYC sold out so quickly. The bakery, in the remote Red Hook neighborhood in Brooklyn, is a popular destination for food enthusiasts. The proof of the pudding is that, while there's no subway stop near the bakery, droves of people still arrive there daily in pursuit of delicious baked goods.
Baked's chocolate brownies, peanut butter brownies and blondies developed such a reputation that gourmet retailer Williams-Sonoma asked the owners to create boxed brownie mixes, which are currently exclusively sold at Williams-Sonoma.
The bakery's mission is to create the best renditions of classic American cookies, cakes and pastries. The brownies are a textbook classic—elegant and not over the top.
The boxed mix line includes:
Brown Sugar Blondie Mix
Deep Dark Chocolate Brownie Mix
Peanut Butter Brownie Mix
The PB and Blondie mixes are both superior to our own house recipes. The chocolate version is excellent, too, though we personally like our chocolate brownies a bit more bittersweet.
It couldn't be easier to make the brownies. Just add eggs and butter, and use an oven thermometer so you don't overbake or underbake them.
A $16 box of brownie mix may sound pricey, but not for Callebaut and Guittard chocolate and cocoa. You get what you pay for.
Find more delicious details as the review continues.
Before you click away to see what we baked, take a peek at the article index below.