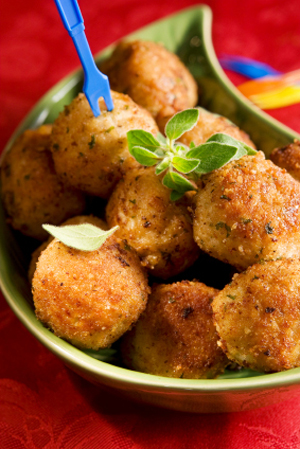 On pasta, in a meatball sub, with a dip or as a quick protein snack, Coleman Natural chicken meatballs are a guilt-free treat. Photo by Og-Vision | IST.
WHAT IT IS: Heat-and-eat chicken meatballs in six flavors.
WHY IT'S DIFFERENT: Natural chicken, raised with vegetarian feed, no hormones, no antibiotics.
WHY WE LOVE IT: They're so convenient, so tasty and so easy to please (i.e., for those who don't eat red meat). And there are so many different ways to use them.
WHERE TO BUY IT: At natural food stores and supermarkets nationwide. See the store locator and take a very quick survey on the website to get $5.00 worth of coupons.

Coleman All Natural Gourmet Chicken Meatballs

CAPSULE REPORT: Why are chicken meatballs a NIBBLE Top Pick Of The Week?
Because it's Healthy Food Month at THE NIBBLE (or at least through the next week or so, after which the Valentine's Day chocolates appear).
We're not saying that chicken and turkey are automatically better for you than beef and pork: It's a complex set of circumstances. But many people we know are trying to eat more skinless poultry and fish and less red meat with the goal of reducing fat and calories as well as their environmental footprint.

And that's why we like Coleman Natural, producer of premium, antibiotic-free, hormone-free, preservative-free and vegetarian-fed beef, pork and chicken products. The company has added a terrific line of chicken meatballs to its chicken products.
There are six flavors of Coleman chicken meatballs: Buffalo Style; Chipotle Cheddar; Italian Parmesan; Pesto Parmesan; Spinach, Fontina Cheese and Roasted Garlic; and Sun-Dried Tomato Basil Provolone. We enjoyed every flavor equally.
The meatballs are gluten-free and soy-free.
Some people will say: Why not just go for lean, ground organic beef meatballs instead of chicken-and-cheese meatballs?
Certainly they're an option. It's just not that easy to find natural or organic packaged beef meatballs that are ready to heat-and-eat, and in so many flavor options.
Learn more about chicken meatballs and how to use it on the next page. Before you click away, look at the article index below.