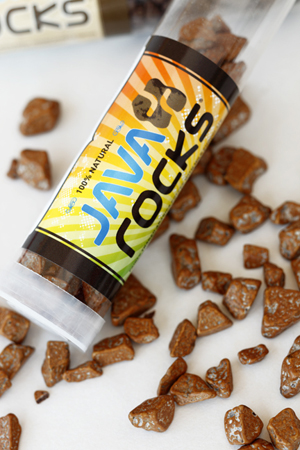 One of four different types of coffee candy, Java Rocks offer full-coffee flavor with a touch of chocolate, in Milk, Dark and Black. Photo by Katharine Pollak | THE NIBBLE.
WHAT IT IS: Premium coffee candies in decorative shapes.
WHY IT'S DIFFERENT: A leap beyond the hard coffee candies of yesteryear.
WHY WE LOVE IT: We love coffee, we love candy. Ergo, we love coffee candy.
WHERE TO BUY IT: Foodzie.com and TakeYourCoffee.com.

Coffee Candy That Rocks
CAPSULE REPORT: How do you take your coffee? With a side of coffee candy, please.
People who love a good cup of coffee tend to like coffee-flavored candy as well. The confectioners from a company called How Do You Take Your Coffee?, Inc. in Reno, Nevada, are in that camp. And we're grateful: We find their coffee candy to be innovative and appealing.
In a prior Top Pick, we wrote about Caffe Acapella coffee bars—like chocolate bars, but made with coffee instead of chocolate. This line is a different concept entirely.
Here, the coffee-loving confectioners, who use fairly-traded coffee beans to make their products, offer a selection of different hard (yet pliant) coffee candies with a subtle chocolate component:
Javaz, a mixture of chocolate and crunchy coffee beans, in milk and dark chocolate, covered in a hard candy shell.
Java Rocks (like candy rocks made with coffee and cocoa powder) in milk, 72% dark and "black" flavors.
RoBooStas, dark chocolate-covered coffee beans with a hard candy shell. (We love the fresh-roasted coffee flavor.)
Go-Go Beans, chocolate-covered beans with a hard candy shell (think cocoa bean M&Ms). They're fortified with additional caffeine, plus ginseng, taurine and B vitamins—an energy drink confection, so much tastier than Red Bull!
We can't figure out why packets and tubes of this candy aren't in every coffee salon in America. They taste great with a cup of coffee, and are equally appealing to pack into one's pockets as a naturally caffeinated snack.
Your job: Print out this review and bring it to the manager of the coffee emporia you frequent. Until then, thank goodness for quick-and-easy online ordering.
The line is certified kosher (dairy) and is gluten free. Read the rest of the review to see the different ways in we used the products. Start with the article index below.