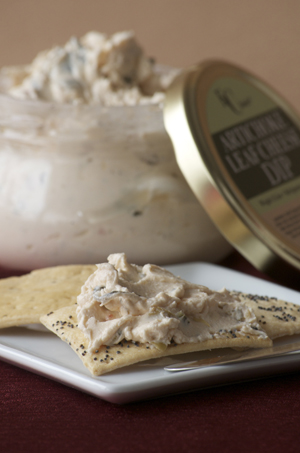 KC Classic's savory and sweet cream cheese spreads are a party in a jar. Photo by Evan Dempsey | THE NIBBLE.
WHAT IT IS: Savory and sweet cream cheese spreads.
WHY IT'S DIFFERENT: It tastes like a homemade cream cheese spread, in delicious flavor options from artichoke and raspberry jalapeño to chocolate cheesecake and lemon cheesecake.
WHY WE LOVE IT: It makes turning out exciting canapés and appetizers quick and easy.
WHERE TO BUY IT: NinasFineFoods.com.

KC Classics: Savory & Sweet Cream Cheese Dips & Spreads
CAPSULE REPORT: If you like cream cheese, it's hard not to like the KC Classic line of savory cheese dips and sweet "fondues."
We'd more accurately call them spreads: With the consistency of cream cheese, they're much thicker than dip. And fondue means "melted"—there's optional melting for dipping and drizzling, but we prefer using the cream cheese as a spread. It's tough to quibble about culinary direction when we just want get out the knife and spread the fondue (we also eat it out of the jar with a spoon).

Once you start spreading, you'll find that KC Classics can create almost-instant hors d'oeuvre, canapés, snacks and desserts. On a cracker, plain or garnished with any number of options, it's delicious with cocktails or tea. The sweet spreads can be employed as cookie sandwich filling, cupcake frosting and a cheesecake-in-a-jar experience for those who need a reliable cheesecake fix.
The only challenge is that it's hard to tell the name of the product: The logo reads KClassic. If you're a graphic designer, please trade the company a new logo for a few dozen cases of excellent cream cheese dip.
Read the rest of the review to see the flavor choices and how we used them. The stylish jars are welcome house gifts, gift basket components and stocking stuffers. Start with the article index below.