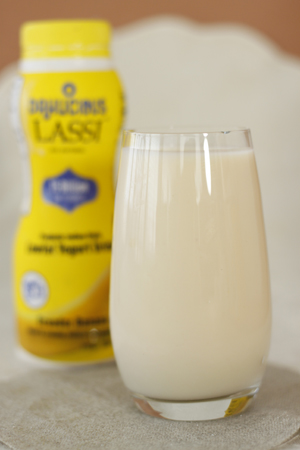 Banana, one of four delicious lassi flavors from Dahlicious. All lassi photography by Elvira Kalviste | THE NIBBLE.
WHAT IT IS: A yogurt-based drink
WHY IT'S DIFFERENT: Great taste, good health: 15 billion probiotics per serving, lactose-intolerance friendly.
WHY WE LOVE IT: It's a great pick-me-up or snack at any time of day.
WHERE TO BUY IT: Retailers nationwide and Dahlicious.com.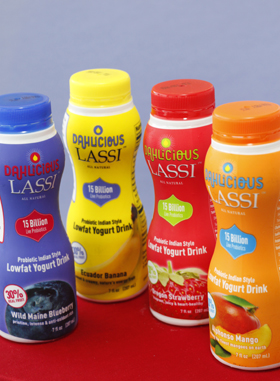 Dahlicious Lassi in four fruit flavors, in individual
-portion, 7-ounce bottles.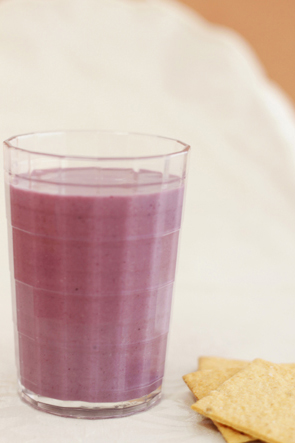 So refreshing: Wild Maine Blueberry Dahlicious Lassi.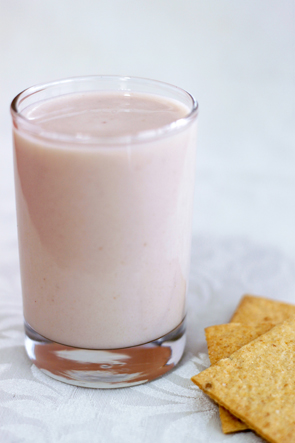 Pretty in pink: Oregon Strawberry Dahlicious Lassi.
Lassi Come Home:
Dahlicious Lassi Yogurt Drink
Jump to the article index below
Lassi is a refreshing, yogurt-based, probiotic beverage popular in India and the Middle East (the word means "yogurt drink" in Hindi). As with kefir, another yogurt-based beverage, it can be enjoyed by lactose-intolerant* people. It's a simpler recipe than kefir, which is made by adding a colony of bacteria and yeast to milk.
Instead, lassi can be made simply by mixing milk or water into plain or flavored yogurt. As necessity is the mother of invention, lassi, which dates back some 4,000 years, may have been created by stirring some liquid into the bowl as a way to stretch the yogurt in the bowl.
Lassi can be made with yogurt from any mammal's milk—camel, cow, goat, sheep, water buffalo and yak are popular sources—or from soy milk. The taste and texture of the drink will vary widely depending on the milk.
When it appeared around 1000 B.C.E., the ancients called lassi the "food of the gods." We moderns might choose to call it "refreshing and good for you."
*The probiotic bacteria compensate for the lack of an intolerant person's production of lactase, the enzyme that digests milk proteins.
When To Drink Lassi
You can have plain lassi, sweet lassi or savory lassi. Savory lassi is a perfect drink with spicy Indian food. Sweet lassi—yogurt and fruit blended with ice cubes—is a smoothie, appropriate for a quick breakfast, a light lunch, rejuvenating snack or a light dessert.
In India, lassi is served as an apéritif, drunk savory with meals, enjoyed sweet as a light dessert, or as a healthful sweet or savory refreshment at any time of day.

It's Dahlicious!
You can make yogurt at home, but most of us prefer to buy it. It's the same with lassi, which you can find at natural foods stores (Dahlicious is available online at Dahlicious.com).
Made in Vermont, all-natural Dahlicious Lassi uses mild tasting, Indian-style yogurt to make the yogurt drink. The milk, from small family farmers, is lowfat and rBST-free; the cows are grass fed.
Dahlicious lassi is made from just five ingredients: yogurt, real fruit purée, water and a small amount of inulin, a prebiotic vegetable fiber (the beneficial probiotic bacteria feed on prebiotics: all about probiotics). Three of the flavors have a bit of organic cane juice as a sweetener.
Each batch takes 12 hours† to make, growing billions of healthful, live probiotic cultures. Probiotic health benefits aside (see them below), lassi is simply delicious. DahLicious flavors include:
Alphonso Mango
Ecuador Banana (no sugar added)
Oregon Strawberry
Wild Maine Blueberry
Depending on the flavor, calories range from 110-130 per seven-ounce bottle.
†Indian-style yogurt is cultured slowly, at low heat. The 12 hour cook time is three times longer than conventional yogurt, which produces a lighter and less acidic (sour) product.
It's Alive & Healthful
Dahlicious Lassi contains 15 billion naturally occurring probiotic cultures per bottle.‡ Probiotics have been proven to help:
Boost immunity

Ease lactose intolerance

Fight infection and fatigue
Help with mineral absorption
Promote digestive health
Support healthy cholesterol levels

Ayurvedic health practitioners have used lassi as a restorative for millennia.
‡The cultures include L. acidophilus, Bifidobac-terium, Propionibacterium freudenreichii and L. casei. More about yogurt cultures.
Garnish Your Lassi
You can turn Dahlicious lassi—or your own homemade lassi—with herbs and spices.
Sweet Lassi With Fruit: A fruit garnish is always appropriate: a berry, banana slice or fruit chunk notched and set on the rim of the glass or on a cocktail pick. Dates and other dried fruits are also delicious garnishes, or a can be served on the side.
Sweet Lassi With Sweet Herbs & Spices: Try allspice, basil, cardamom, cinnamon, citrus zest or peel, cloves, ginger, mint, nutmeg, pink peppercorns, pomegranate arils (seeds), saffron, star anise; plus orange blossom water or rose water.
Savory Lassi With Savory Herbs & Spices: Choose from basil, black or red salt, capers, celery seed, cardamom, chili powder, cilantro, cloves, coriander seed, cracked pepper or whole peppercorns, cumin, curry powder, dill, fenugreek, green onion, lemon or line zest or peel, mint, parsley, poppy seed, saffron or turmeric.
Salted Lassi: Salt the rim of the glass of plain or savory lassi, as you would a Margarita.
Nuts To Both: Add a sprinkle of slivered almonds, chopped cashews, pistachios.
For a summer gathering, set up a sweet and savory lassi bar so guests can customize their own drinks. It will be a hit!
— Karen Hochman
The article continues below, with yogurt trivia, books and more.