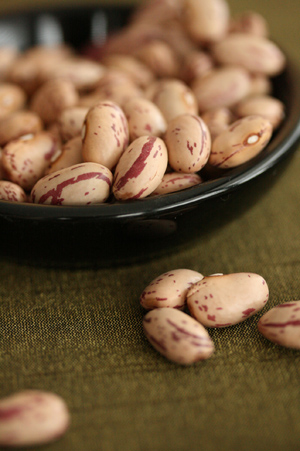 More than delicious, these heirloom cranberry beans from Rancho Gordo are a treat for the eye. Keep beautiful beans in glass canisters to decorate your kitchen. Photo by River Soma | THE NIBBLE.
WHAT IT IS: Gourmet beans grown from heirloom strains.
WHY IT'S DIFFERENT: Freshness, softness and flavor over "starchiness."
WHY WE LOVE IT: Beauty, variety and tasty fun.
WHERE TO BUY IT: RanchoGordo.com.

Rancho Gordo: Gourmet Beans

CAPSULE REPORT: Today we'll discuss one of America's great heirloom artisan bean growers. You can skip ahead to Page 3, or spend some time learning the history and nutritional value of beans—a valuable education!
Man the hunter-gatherer has been eating dried beans as long as he's had a vessel to cook them in. In the Neolithic Era, around 8,000 years ago, agriculture and permanent settlements evolved as nomadic hunter-gatherers realized the benefits of stable communities. As they tilled the earth, beans were among the first cultivated crops.*
*The first crop is believed to be figs, followed by wheat and barley, grapes, olives, sugar, tea, rice and sesame.
Beans are pictured on the walls of Egyptian tombs dating back at least 4,000 years, along with stores of chickpeas, lentils and fava beans to feed the dead in the hereafter. About the same time, around 1500 B.C.E., soybeans and other legumes were grown in Asia. In Thailand, peas have been carbon dated all the way back to 9750 B.C.E.
On our side of the pond, black beans have been found in excavations in Mexico and Peru, dating to 7000 B.C.E. Runner beans, kidney beans and lima beans became staple crops of the ancient Americas.
Beans were nutritious fare for our ancestors. Yet today, many people think of beans as inexpensive food consumed by people who can't afford better.
There's no finer way to learn to appreciate beans than to try the impressive selection of heirloom beans grown in California by Rancho Gordo. Far from serving "affordable" fare, your friends and family will see you as the fine food enthusiast you are.
Read the rest of the review. Start with the article index below.