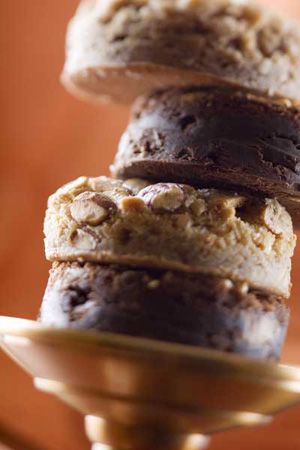 Beyond delicious snacking, these round brownies and blondies can be used as the base for impressive desserts. Photo courtesy Sugardaddy's Sumptuous Sweeties.
WHAT IT IS: The best gourmet brownie gifts and self indulgences.
WHY IT'S DIFFERENT: Flavorful, beautiful and easy to grab-and-go or to give as gifts.
WHY WE LOVE IT: The wonderful selections of "blondies" and "brunettes" (chocolate brownies).
WHERE TO BUY IT: TheNibbleGourmetMarket.com. Use code BOO at checkout for a 10% discount on any store items, through October 31st.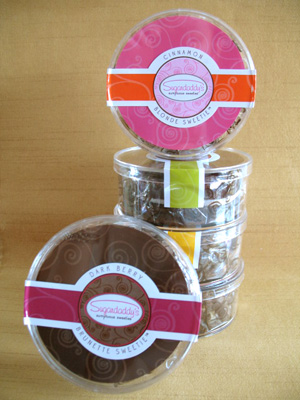 We reuse the containers for everything from paper clips to spices. Photo by Melody Lan | THE NIBBLE.

Gourmet Brownie Gifts: Round Brownies & A Halloween Discount
Jump to the article index below
CAPSULE REPORT: There's a great sugar daddy in Columbus, Ohio. He won't keep you in style, but he will keep you in delectable round brownies, which he calls his "sweeties."
As an indulgence for yourself, you won't find any finer brownies than Sugardaddy's Sumptuous Sweeties. And for gourmet brownie gifts, they're the tops: individually packaged in reusable hard plastic gift boxes (see photo below). These round boxes transport Sugardaddy's far beyond brownies "individually wrapped" only in cellophane.
They're ready to rock for Halloween gifts, party favors and (soon enough) stocking stuffers.
Fifteen sumptuous flavors are hand-crafted from top ingredients, including Callebaut and Guittard chocolate. The semi-sweet chocolate chunks are as good as it gets.
One of the nice things about Sugardaddy's Sumptuous Sweeties is that—contrary to what the name might suggest—they're not too sweet, only as sweet as they need to be. You can enjoy a brownie without feeling that you've overdone it. This restraint is most appreciated in these days of overly sugared baked goods and confections, and sugar tossed into everything from bread to mustard to vinaigrette.
Feast On These Brownie Flavors
Several flavors are available with or without nuts (*). We've given more space below to the blondies, only because it's so unusual to find these types of flavors (not to mention, so perfectly executed):
Chocolate Brownies: Caramel pecan, double chocolate,* espresso,* mint, peanut butter (including toasted chopped peanuts) and raspberry.
Blondies: Blondies are made with brown sugar and don't contain cocoa powder (most have chocolate chunks, though): cinnamon streusel* (great at brunch!), drunken chunky (chocolate chunks, toasted pecans, bourbon) and PB&J. Two not-to-miss favorites: "Tahiti," made with coconut, pineapple, white and dark chocolate chunks and roasted cashews; and the sweet-and-salty three-nut blondie with sea salt.
Seasonal Special: Harvest Blondie. Made from pumpkin purée, toasted walnuts, white chocolate chunks and harvest spices, it's like a pumpkin pie in a blondie!
Great Dessert Ideas
While most everyone loves a brownie, these lovely round brownies easily transform themselves into a festive dessert:
À la mode, with ice cream (match the ice cream to the brownie flavor: mint ice cream with the mint brownie, for example).
Whipped cream-crowned, perhaps with a flavored whipped cream like bourbon or five-spice.
Brownie sundae, topped with ice cream, chocolate or caramel sauce and whipped cream.
European-style, topped with with crème fraîche for a slightly tart counterpoint, or mascarpone (the creamy ingredient in tiramisu) for creamy lusciousness.
And don't forget your Halloween bonus: Use code BOO at checkout for a 10% discount on any and all treats (through October 31st).

—Karen Hochman
Head to the index below to see what page you'd like to visit next.