Holey Donuts!: All Of The Flavor With A Fraction Of The Fat & Calories

CAPSULE REPORT: Holey Donuts, Batman! These tasty, lowfat, lower-calorie pastries will be the toast of the town.
Citizens of Gotham City: Holey Donuts! were created by a food superhero. He knows that people want their donuts; they just don't want the calories and fat that come with them.
Back in 1958, Frank Dilullo's father was one of the first franchisees of Dunkin' Donuts—today the world's largest donut chain. Frank followed in the donut business, making his own gourmet donuts.
One day, he stepped away from the deep fat fryer and began to cook his donuts in a new and different way: low-fat. He then sent samples off to an FDA-approved lab for testing. The result: each donut had less than 3 grams of fat. (Just don't ask for the secret recipe.)
The Ultra Low Fat line of donuts—and the cinnamon buns, which we adore—are light and airy. Classic donuts are cakey or crumbly; these are closer to a Krispy Kreme than Dunkin' Donuts.
Here's a comparison: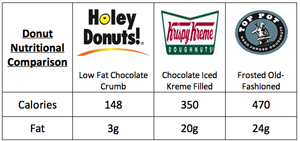 Chart courtesy Holey Donuts!.
Your next step should be to order a box or two. They arrive frozen, ready to be thawed and devoured. Stick 'em in the fridge and enjoy them on an as-needed basis, or microwave them to appear just-made.
Which were our favorites?
Find out on the next page. Before you click away, look at the article index below.