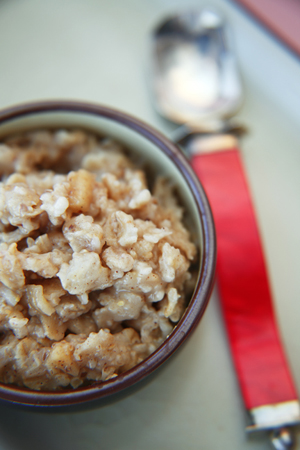 Best Oats oatmeal is chunky, not mushy. All photography by Katharine Pollak | THE NIBBLE.
WHAT IT IS: Instant oatmeal that's not as processed as traditional instants.
WHY IT'S DIFFERENT: More fiber, more nutrition.
WHY WE LOVE IT: Great texture, chunky with no mushiness; great flavors.
WHERE TO BUY IT: Amazon.com, or see store locator at BetterOats.com.

Better Oats: The Best Instant Oatmeal
CAPSULE REPORT: For most, hot cereal has limited allure. It doesn't have youth-friendly advertising. Cold cereal, yogurt and breakfast bars are more convenient. While it is purchased by roughly two-thirds of U.S. households, consumption levels drop dramatically between the ages of eight and 12. (Nearly all households eat cold cereal.)*
*Source: Mintel International Group. And if you don't know what "feeling your oats" means:
1. To feel new confidence and energy.
2. To feel frisky or lively.
3. To be aware of and use one's importance or power.
To sell more, manufacturers need to wait until adults of a certain age want the benefits of oatmeal: a nutrient-rich whole grain filled with fiber and protein, known for cancer-fighting properties and potentially for lowering cholesterol and incidence of heart disease.
But take a taste of Better Oats instant oatmeal, in flavors diverse enough for snacking as well as for breakfast. It's an instant oatmeal that's miraculously firm with great texture. One where the fruit flavors have pieces of real fruit (spoiler: other brands use reconstituted apple bits, flavored and dyed to imitate peaches and strawberries).
There are as many delicious flavors as one could hope for, including chocolate. Flax seeds are added for Omega-3 fatty acid and more fiber. It's certified kosher (OU). And you don't even need a measuring cup for water: It's built into each packet!
Better Oats does everything but wash the bowl and spoon. It truly is better.
Read more in the full review. Start with the article index below. But before you head there, here's some more cereal trivia: