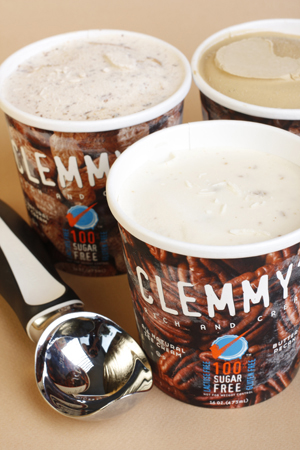 Now, everyone can enjoy creamy ice cream—even if they've given up lactose, sugar and/or gluten. Photo by Jaclyn Nussbaum | THE NIBBLE. Tupperware ice cream scoop.
WHAT IT IS: Ice cream that's lactose-free, sugar-free and gluten-free.
WHY IT'S DIFFERENT: It hits the trifecta: lactose-free, sugar-free and gluten-free. There are plenty of No Sugar Added ice creams, but Clemmy's is the only sugar-free ice cream made! No Sugar Added ice cream still has some sugar that exists naturally in the milk and other ingredients.
WHY WE LOVE IT: Finally, people with lactose intolerance can enjoy ice cream as often as they like.
WHERE TO BUY IT: Try the store locator or buy online at IceCreamSource.com. Ask the manager of your favorite market to bring it in. Learn more at ClemmysIceCream.com.

Clemmy's Ice Cream Is A Great Find: Lactose-Free, Sugar-Free & Gluten-Free
CAPSULE REPORT: This top pick may not be for you, but you can make someone you know happy with a recommendation. It's Clemmy's Ice Cream, the all natural, universal treat for people who need sugar-free, gluten-free and/or lactose-free products. (What makes people happier than ice cream?)
While there's plenty of no-sugar-added ice cream out there, and there's no other sugar-free ice cream out there.** And while ice cream contains no gluten unless cookie pieces are added, lactose-free ice cream is hard to find.

Enter Clemmy's, available in eight popular flavors plus two variations on the chocolate-covered ice cream bar.
Ice Cream Pints:

Butter Pecan†, Chocolate Chip, Chocolate, Coffee (made with Espresso), Orange Creme* (vanilla ice cream with orange sorbet), Peanut Butter Chocolate Chip*, Toasted Almond and Vanilla Bean.
Novelties: The company also makes large and small Clemmy O's†—a stick-free, chocolate-covered vanilla ice cream novelty in a donut shape instead of the conventional rectangle on a stick. The ice cream could be a bit more sweet, but the chocolate coating is excellent.
*Most Favorite
†Least favorite (not a true butter pecan flavor)
The ice cream includes egg yolks for richness, and is sweetened with two naturally derived sugar alcohols, maltitol and xylitol. Creamy and satisfying, Clemmy's is a godsend to the lactose intolerant. You can buy Clemmy's online and at retailers nationwide.
We've included some helpful information about lactose intolerance. Before you dig in, take a peek at the article index below.
About Lactose Intolerance
Some 30 to 50 million people have difficulty digesting milk products‡—including cheese, ice cream and yogurt. If you get abdominal pain or other digestive discomfort after consuming them, you may want to get tested by a specialist.
‡People with lactose intolerance may feel discomfort 30 minutes to 2 hours after consuming milk or milk products. Symptoms range from mild to severe, based on the amount of lactose consumed and the amount a person can tolerate.
Lactose intolerance affects major ethnic groups. Ninety-five percent of Asians, 60% to 80% of African Americans and Ashkenazi Jews, 80% to 100% of Native Americans and 50% to 80% of Hispanics have a lactose sensitivity.
Lactose intolerance can develop as you age. While people of European descent have a lactose intolerance prevalence of only about 2%, as they grow older, their bodies can cease the production of lactase. That's the enzyme needed to break down lactose into the simple sugars glucose and galactose, which are absorbed into the bloodstream. Ice cream lovers can unhappily discover they are becoming lactose intolerant.
It's easy to remove lactose, or milk sugar, from milk; lactose-free milk is available almost everywhere, and tastes no different from conventional milk. Given the growth of lactose intolerance among the American populace, we hope that more manufacturers pick up on the clue.
Also take a look at Green Valley Organics' lactose-free yogurt, sour cream, kefir and frozen kefir.
**The difference: No-sugar-added products still contain some sugar that is is naturally contained in the ingredients used. Milk, for example, contains lactose, or milk sugar. Plant and animal tissues contain dextrose; fruit contains sucrose. A product labeled sugar-free has absolutely no sugar. Whatever sugar occurs naturally in the ingredients has been removed. This is a much more expensive process, which is why most foods are no-sugar-added.