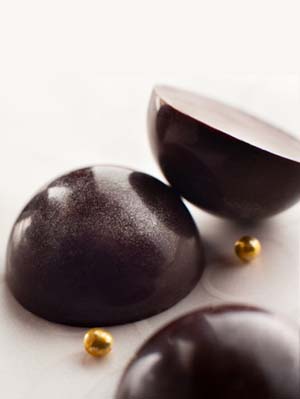 The signature gem, filled with luscious caramel and a hint of sea salt. Photo courtesy Gem Chocolates.
WHAT IT IS: Luxury chocolates, handmade by a fine artisan.
WHY IT'S DIFFERENT: Every chocolatier has a "voice," a style. This voice has a deft hand in flavoring beautiful ganaches.
WHY WE LOVE IT: Affordable luxury.
WHERE TO BUY IT:
Buy Online.

Gem Chocolates: Luxury Chocolate
CAPSULE REPORT: Get someone who deserves luxury chocolate a box of Gem Chocolates. These gems do not sparkle like diamonds and rubies, but they sparkle where it counts: on the palate.
Chocolatier Glenn Knowles has a fine eye, a deft hand and an excellent palate, all of which are used to create his chocolate gems.
These are gems with a conscience, made from the finest Belgian chocolate that is organic-, Fair Trade- and Rainforest Alliance-certified.
Each gem is handmade using traditional artisan techniques, in small batches. The ingredients are all natural; no oils or extracts are used.
You can feel good about this purchase because it's beautiful and delicious. It's also sustainable. Organic practices help the environment. Saving the rainforest saves the home of rare animals and fauna. Fair Trade helps poor farmers and their families escape poverty.
See more gems on the next page. Before you click away, look at the article index below.
Note To Those Bestowing Diamonds
Or Other "Real" Gems:
You can insert a ring into a piece of chocolate, or a necklace or bracelet into one of the fluted paper cups. In that instance, you get to eat the piece displaced by the jewelry.