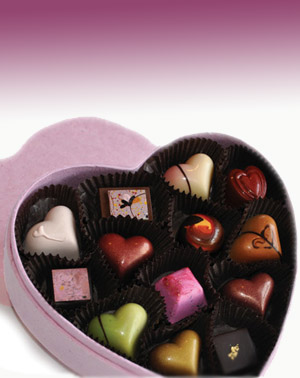 This classic valentine chocolate box is packed with heart-shaped chocolates. Photo courtesy Anna Shea Chocolates.
WHAT IT IS: Luxury chocolates for your Valentine or any special occasion.
WHY IT'S DIFFERENT: We present the most feminine—Anna Shea Chocolates—and the most masculine, Scotch-infused Chocolate Malts.
WHY WE LOVE IT: Very special, very delicious.
WHERE TO BUY IT: Buy Online Here .

Valentine Chocolate: Our Heart Goes To Anna Shea & Chocolate Malts
CAPSULE REPORT: If you haven't yet found a spectacular Valentine's Day gift, we have two that are certain to impress:
Anna Shea Chocolates, of South Barrington, Illinois, and Chocolate Malts of Wichita, Kansas. The malts referenced are Scotch.
First up: Anna Shea. With a team of some of the most gifted chocolate artists in the country, every piece of Anna Shea chocolate is an ode to beauty and innovative flavoring. Each piece is designed and colored to reflect the flavoring within (that green heart, for example, is pistachio).
If you want a gift for the connoisseur eye and palate—that also can be enjoyed by a teen—go for Anna Shea. There are two heart-shaped boxes for Valentine's Day: 16 pieces in a keepsake leather box embossed in a crocodile pattern (photo below) and the double-layer, 26-piece pink fabric box in the photo at left.
The flavors include classic ganaches, modern flavors such as chai latte, and irresistible caramels such as honey lavender and wild honey lemon. The Swiss couverture is excellent.
Order them at AnnaSheaChocolates.com.
Next up, Chocolate Malts. Before you click away, look at the article index below.