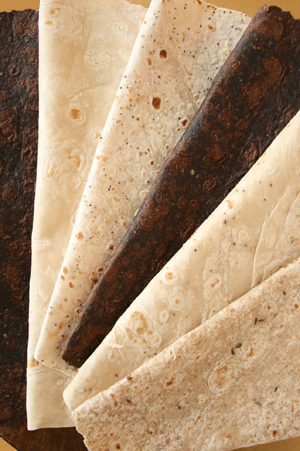 Tumaro's new line of deli wraps lets you make a deli sandwich in a wrap. Photography by River Soma | THE NIBBLE.
WHAT IT IS: Gourmet wraps, "deli style."
WHY IT'S DIFFERENT: The wrap flavors beautifully evoke popular deli sandwich breads such as pumpernickel, rye and sourdough.
WHY WE LOVE IT: Great flavors, half the calories of two conventional slices of bread, and the ability to fill up on the sandwich ingredients instead of thick slices of bread.
WHERE TO BUY IT: At fine retailers nationwide. Here's the store locator.
It's Easy To Make Wrap Sandwiches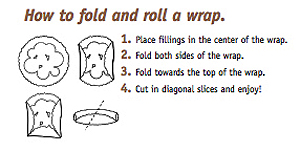 Diagram courtesy Tumaro's.
*Custard recipes were developed in Europe in the Middle Ages, but they were independently invented in Asia as well. European custards are eggier, and American fusion recipes are based on this style. The name "custard" derives from croustade, which was the pie or tart crust into which the custard was poured; it comes from the Latin crusta, meaning shell. The first custards were savory tart fillings. Prior to the development of pastry crusts, a hollowed-out loaf of bread was used.


Wrap Sandwiches, Deli-Style
CAPSULE REPORT: We love fusion foods—combinations of ingredients from different food cultures that deliver a new take on the original foods. Examples include green tea custard and wasabi mashed potatoes, which combine Japanese flavors with traditional European recipes.*
Heading south of the border, we are big fans of Tumaro's fusion of tortilla-inspired wraps with European-American delicatessen breads, enabling the creation of wrap sandwiches with deli flavors. They're even better with conventional sandwich fillings than Tumaro's regular line of gourmet tortillas—a favorite of ours.
(Although many people use the words interchangeably, there's a pronounced difference between a tortilla and a wrap. See it below.)
Tumaro's Gourmet Tortillas' New York Deli Style Wraps are made in five flavors. Each one is a winner, but we have a special fondness for the pumpernickel and rye, our favorite deli breads. The wraps are moister than most—a definite plus when making sandwiches.
Cracked Pepp

er Wrap


While we haven't seen cracked pepper in a deli bread, we're taking this flavor on faith. It will be a hit with everyone who likes a bit of pepper sizzle. We used it to give extra punch to a tuna salad wrap and to a "Mediterranean" wrap with hummus, tabbouleh, cucumbers and Kalamata olives.
Everything Wrap
For "everything bagel" fans, this is a blend of poppy seeds, salt, onion and garlic. We especially liked this wrap for scrambled egg or egg salad tortilla sandwiches.
Pumpernickel Wrap
This is our favorite, because we love the bold flavors of pumpernickel and Reuben sandwiches. We made lots of Reuben wraps, plus chicken and avocado wrap sandwiches.
Rye New York Wrap
The classic deli bread flavor is great as a wrap sandwich. You can put anything in it. We made BLTs and chicken salad BLTs.
Sourdough Wrap
This is a pretty universal flavor: We even made peanut butter and jelly wrap sandwiches.
The suggested retail price is $2.99–$3.99 for a four-pack. The wraps are available at grocers nationwide and can be purchased online.
Wraps Vs. Bread
While different brands have varying levels of calories and fat, one ten-inch New York Deli Style Wrap has 80 calories, except for Cracked Pepper, which has 100 calories. The wraps also have 10g and 12g of fiber, respectively.
The wraps are definitely a lower-calorie substitute for two slices of bread, unless you use Pepperidge Farm Very Thin Sliced Bread at 45 calories a slice (we can't split hairs over the 10-calorie differential).
What's more, unlike many breads, these wraps contain no sugar. Each wrap has 9g of protein and 20% DV of calcium—more than twice the amount of Pepperidge Farm Very Thin.
Check the index below for sandwich recipe books and more.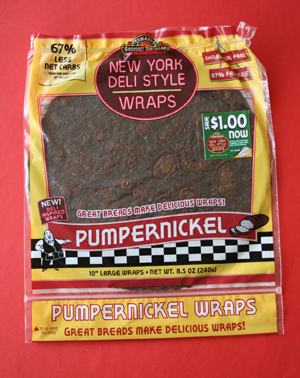 We used these pumpernickel wraps to make a Reuben sandwich wrap.