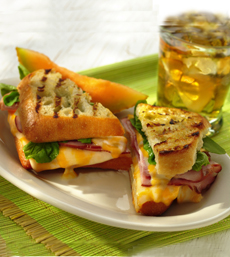 Honey glazed ham and lemony arugula turn the classic ham and cheese sandwich into something memorable.

Panini Pizzazz
Page 2: The New Ham and Cheese ~ Colby-Jack Panini With Honey Glazed Ham & Lemony Arugula


This is Page 2 of an 8-page article. Click the black links below to visit other pages. See Page 1 for information about a panini pan/panini press.
On The Menu:

Colby-Jack Panini With Honey Glazed Ham & Lemony Arugula

Ingredients For 2 Panini
1 cup packed arugula leaves
2 teaspoons lemon juice
2 teaspoons extra virgin olive oil
Salt and pepper
2 ciabatta rolls or substitute 8 large slices rustic Italian bread
6 slices colby-jack cheese*
4 ounces sliced honey glazed deli ham
*Colby-jack is a Sargento blend. If you can't find it, substitute colby or jack cheese—or both.
Preparation
Preheat panini pan or heat gas grill to medium-low.
Toss arugula with lemon juice and olive oil. Season to taste with salt and freshly ground black pepper.
Slice off the tops of ciabatta rolls. Split horizontally in half. Turn bottom halves up and top with 2 slices cheese, ham, arugula mixture and remaining 4 slices cheese. Close sandwiches with top halves of rolls. Brush lightly with additional olive oil, if desired.
Cook sandwiches in panini maker or on gas grill for 4-5 minutes, turning once, until cheese is melted and bread is golden brown.
Continue To Page 3: Ham & Baby Swiss Panini With Fig Jam
Recipe courtesy of Sargento. Other material © Copyright 2005- 2015 Lifestyle Direct, Inc. All rights reserved. Images are copyright of their respective owners.