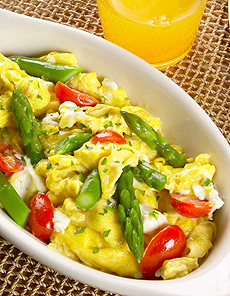 Start your day with a luscious plate of Asparagus Scramble With Herbed Cream Cheese & Tomatoes. Photo courtesy California Asparagus Commission.

Product Reviews / Main Nibbles / Cheese-Butter-Yogurt-Eggs
Asparagus Recipes
Page 3: Asparagus Scramble With Herbed Cream Cheese & Tomatoes


Try this scrambled egg recipe made richer, more elegant, and certainly more colorful! This is Page 3 of a 12-page article. Jump to the recipe below. Click the black links below to view the other pages.
Index
On The Menu
Breakfast/Brunch:
Lunch:
Dinner Entrees:
Asparagus Sides:
Asparagus Scramble With Herbed Cream Cheese & Tomatoes
Recipe yields 6 servings.
Ingredients
1 pound asparagus spears, ends trimmed
8 large eggs
Salt and pepper to taste
1 tablespoon olive oil
4 ounces whipped garlic and herb cream cheese
1 pint cherry tomatoes, sliced in halves
1 tablespoon chopped fresh parsley
Preparation
Blanch asparagus spears in medium pot of boiling salted water until just tender, about 4 minutes. Drain and set aside.
Whisk eggs in large bowl. Season with salt and pepper.
In a large skillet over medium heat, heat olive oil. Add eggs. Stir until eggs are almost set, about 1 minute. Add cheese in dollops and then add tomatoes. Stir until cheese melts and eggs are softly set, about 2 minutes.
To serve, cut asparagus spears into 2-3-inch pieces and fold into egg mixture and place on heated plate or oval ovenware. Garnish with chopped parsley.
Option: Serve an additional 2-3 spears of cooked asparagus on the side.

Continue To Page 4: Asparagus Pizza With Red Bell Pepper, Olive & Feta Cheese
Recipe courtesy California Asparagus Commission. All other materials © copyright 2005- 2015 Lifestyle Direct, Inc. All rights reserved. Images are the copyright of their respective owners.