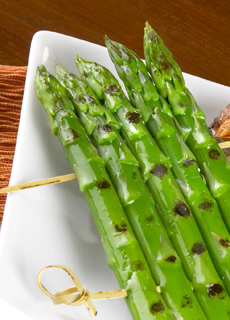 Grilled Rack Of Asparagus—an elegant yet playful way to serve America's favorite veggie. Photo courtesy California Asparagus Commission.

Product Reviews / Main Nibbles / Vegetables
Asparagus Recipes
Page 11: Grilled Rack Of Asparagus With Herbs & Balsamic Vinaigrette


It's all in the presentation, and this recipe shows exactly how easy it is to take an everyday vegetable and make it look restaurant-fancy. If it's not convenient to grill them, you can serve the asparagus steamed. This is Page 11 of a 12-page article. Jump to the recipe below. Click the black links below to view the other pages.
Index
On The Menu
Breakfast/Brunch:
Lunch:
Dinner Entrees:
Asparagus Sides:
Grilled Rack Of Asparagus
Recipe yields 3 to 5 servings.
Ingredients
Preparation
In a pot of boiling salted water, blanch the asparagus for 2 minutes or until crisp-tender.
On a cutting board, divide the bunch of asparagus into servings of 6 to 7 spears. Line up the servings in a row. Run one skewer 2 inches from the top and a second skewer 2 inches from the bottom through all the spears to create a horizontal rack.
For the vinaigrette, put all remaining ingredients in a jar with a tight-fitting lid and shake well.
To grill asparagus, brush racks liberally with vinaigrette to coat well. Grill racks over a medium-high heat barbecue or grill pan for 2-3 minutes on each side until tender. Serve with extra vinaigrette. Top with chopped fresh herbs and lemon zest.
Continue To Page 12: Sweet & Spicy Szechuan Asparagus
Recipe courtesy California Asparagus Commission. All other materials © copyright 2005- 2015 Lifestyle Direct, Inc. All rights reserved. Images are the copyright of their respective owners.