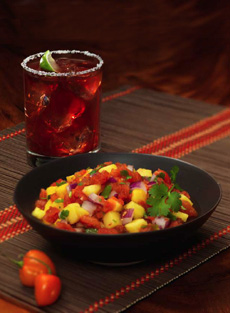 Photo of mango salsa courtesy of Cazadores Tequila.
April 2007
Updated August 2009

Salsa Glossary, Terms & Definitions
Page 3: Salsa Terms P~R
Here you'll find salsas including pebre sauce from Chile and pico de gallo from Mexico. This is Page 3 of a four-page article. Click on the black links below to visit other pages.
Peach Salsa: The best-selling fruit salsa flavor in the U.S. While most bottled peach salsa is tomato-based salsa roja, you can make fresh peach salsa without tomatoes, to serve with fish, seafood, vegetables and chips. Combine 2 cups peeled, finely diced peaches, 1/4 cup finely chopped sweet onion, 2 tablespoons finely chopped red bell pepper, 1 de-seeded and finely chopped jalapeño, juice of 1 lime, 2-3 tablespoons finely chopped cilantro or basil leaves and 1 clove minced garlic. Add salt to taste.
Pebre (PEB-reh): Salsa de pebre, or pepper sauce, is served with grilled meat in Chile. It can be made with jalapeños, or made hotter with habañeros. Seed and mince 4 jalapeños and combine in a bowl with 1/4 cup fresh lemon juice and 1 tablespoon salt. Let stand 30 minutes and drain. Then add 1/4 cup olive oil, 2 tablespoons each of chopped fresh chives, chopped fresh cilantro, chopped fresh parsley and 3 tablespoons of white wine vinegar. Makes about 2/3 cup.
Peri-Peri Sauce: The national condiment of Peru, peri-peri sauce is made in medium to hot levels of spiciness—the more chile, or the hotter variety of chile used, the hotter the sauce. Original peri-peri uses the African bird's eye chile (the African word for the chile is peri-peri). Milder sauces may use only cayenne and serrano chiles. To a base of vinegar and oil, garlic and lemon juice are added, plus other seasonings, which often include paprika or tomato paste for flavor and color, onions and herb—each company has its own recipe. It is also used as a cooking sauce.
Picante (pee-KAHN-tay): "Hot and spicy" in Spanish, from the verb picar, "to sting." Americans generally know picante sauce as a puréed, thinner version of salsa. Picante sauce was created by Dave Pace, founder of Pace Foods, in 1947 (now owned by Campbell's Foods).
Pico de Gallo (PEE-coh-deh-GAH-yo): Spanish for "rooster's beak," it once was eaten between the thumb and finger in a way that resembled a pecking rooster. It is made with finely diced raw tomatoes, onions, lime juice and cilantro. Jicama and other raw ingredients can be added. It differs from salsa fresca and salsa cruda in that the ingredients are uniformly chopped; but the terms are often used interchangeably. Another term used is salsa mexicana (Mexican sauce).


While Portuguese traders broght the bird's eye chile and peri-peri sauce to Brazil from Africa, it became the favorite condiment of Peru, on the other side of the continent. Here, an authentic peri-peri sauce from Africa.
Pineapple Salsa. A popular fruit salsa that combines pineapple with cilantro, chopped red and green onion, and lime juice and seasonings. It is popular with grilled meats and seafood, and can be served with crisp greens, fresh cheese and yogurt. Combine 2 cups finely chopped pineapple, 2 tablespoons finely chopped red onion, 2 tablespoons finely chopped red bell pepper, 1 de-seeded and finely chopped jalapeño, juice of 1 lime, 2-3 tablespoons finely chopped cilantro leaves and 1-1 ½ teaspoons cumin powder. Add salt to taste. Fresh or canned pineapple can also added be added to salsa fresca and any salsa roja.
Queso (KEH-so): The Spanish word for cheese. A queso is also a cheese sauce (salsa), a blend of queso blanco and other Mexican cheeses with jalapeño, onion and red bell peppers.
Recado (ruh-KAH-doh): A spicy paste or dry rub used to season food before and during cooking. There are many different blends. Recado roja, or achiote paste, is Mayan in origin and usually includes allspice, annatto, black pepper, clove, cinnamon, cumin, garlic, oregano and salt. The annatto seeds dye the mixture red, and this gives the meat or vegetables a distinctive red hue.
Recaito (reh-kai-EE-toh): A very mild, cilantro-based Mexican seasoning sauce for rice dishes, soups, stews, salsa and a garnish for tacos and burritos. It can be made by sautéing cilantro, garlic, green pepper and onion in olive oil.

Ricado

(Ree-KAH-doh): A spice blend used to season Mexican salsas verdes, which are made of chiles and tomatillos. The spices can include cinnamon, cocoa, cumin seed and oregano. There is usually a roasting step in the preparation of ricado: the seasonings may be ground first and then roasted, or roasted and then ground to provide a more rounded flavor. Green herbs in the mix, like basil, cilantro and epazote, are not roasted.
Continue To Page 4: Salsa Terms With S~Z
If you have additions or suggestions for this glossary, let us know via the Contact Us link on this page.
© Copyright 2005-2014 Lifestyle Direct, Inc. All rights reserved. Images are copyright of their respective owners.