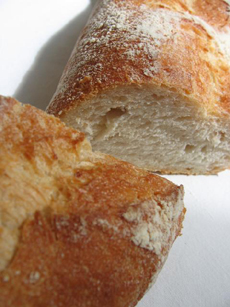 A warm, crusty baguette is the perfect accompaniment to any great French meal. Photo courtesy of MorgueFile.com




French Cookbooks
Oui, Monsieur, We Would Like Seconds
French food can mean anything from a simple family-style feast to the heights of haute cuisine. The French have a knack for making meals that are impressive and delicious, and you can master those techniques through these books.
If you'd like to recommend a favorite book on French cooking, click here.
Nibble Tip

A favorite hors d'oeuvre du Maison Nibble: pate sandwiches! Like miniature peanut butter and jelly sandwiches, but spread foie gras pate on white bread or brioche instead of the PB, and use fig jam or Sauternes jelly if you can find it. Serve with champagne and make lots, because guests will devour them.

Photo courtesy of MorgueFile.com
© Copyright 2005-2015 Lifestyle Direct, Inc. All rights reserved. Images are the copyright of their respective owners.