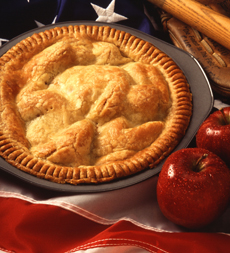 Although apple pie is not an American invention, there are some great American cookbooks on desserts and baking. Photo by Scott Bauer courtesy of the U.S. Agricultural Research Service.



Cookbook Reviews
The Best Cookbooks
Whether used for guidance or inspiration, cookbooks are an integral part of any book collection. If you'd like to recommend a favorite cookbook, just click on the link.
Nibble Tip

Package gifts for foodie friends with a beautiful book on the topic: chocolate, wine, tea, coffee. Your friends will appreciate learning more about something they enjoy so much.

Photo courtesy of MorgueFile.
© Copyright 2005-2015 Lifestyle Direct, Inc. All rights reserved. Images are the copyright of their respective owners.