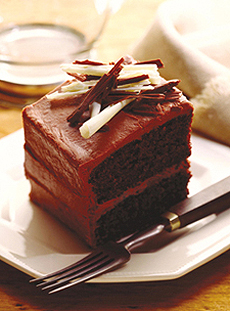 Who doesn't love a chocolate layer cake? You can make this excellent version yourself, with ease, thanks to ingredients from The King's Cupboard, a NIBBLE Top Pick Of The Week.


Cake Trivia Quiz
Answer A Few Food Trivia Questions And Learn More About The Different Types Of Cake
NOTE: You must have cookies or JavaScript enabled in your browser in order for the survey software to function.
When you "take the cake," you carry off the honors. The phrase originated in the U.S. with cake-walk competitions, which were popular in African-American communities of the South in the 19th and early 20th centuries, from about 1870. Couples would promenade in a circle, and the prize was often a fine cake, set on a stand in the center. The couple judged to be the most stylish would "take the cake." Cakes were generally as stylish and elaborate (and costly) as entrants' outfits, and a fine prize.
See if you can "take the cake" by answering these cake trivia questions.
TAKE THE QUIZ




Related Food Videos:



For more food videos, check out The Nibble's Food Video Collection.


© Copyright 2005-2015 Lifestyle Direct, Inc. All rights reserved. Images are the copyright of their respective owners.