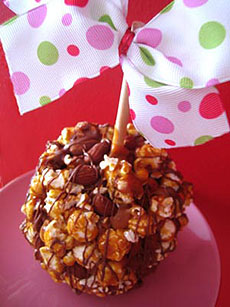 What a treat! This "Aftershock" caramel apple from DeBrito, a NIBBLE Top Pick Of The Week, is covered in homemade caramel corn, roasted almonds and peanuts, and Guittard chocolate. DeBrito apples are too good to save for Halloween—we enjoy them all year long. Photo by Melody Lan | THE NIBBLE.
July 2008
Last Updated October 2011


Candy Covered Apples Trivia Quiz
Answer A Few Trivia Questions & Learn Fun Food Facts
NOTE: You must have cookies or JavaScript enabled in your browser in order for the survey software to function.
Candy apples are known by an assortment of names: candy covered apples, candied apples, caramel apples, caramel candy apples,* lollipop apples, taffy apples,* toffee apples,* and whatever you may call them that isn't on this list. While typically a children's treat, artisan confectioners have created gourmet apples using the finest quality chocolate and homemade caramel (and amazing apples!), that the most discerning adult can't resist them.
In the past, the apple had to have a stick in order to be called a candy apple (and who would wish to hand-dip an apple into boiling candy coating without a long stick to hold?). Some of today's gourmet apples are dipped by their stems into more user-friendly caramel and melted chocolate—no stick required.
Take this quiz to learn about this wonderful fusion of candy and fruit.
*Taffy apples and toffee apples more accurately refer to caramel apples, not red candy-coated apples. Some caramel apples have an extra coating of chocolate.
MAKE YOUR OWN!
Recipes For Red Candy Apples & Caramel Apples
TAKE THE QUIZ




Related Food Videos:



For more food videos, check out The Nibble's Food Video Collection.


© Copyright 2005-2015 Lifestyle Direct, Inc. All rights reserved. Images are the copyright of their respective owners.