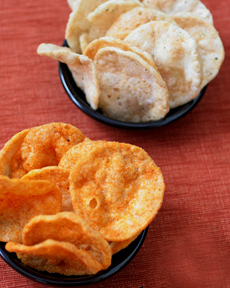 Yes, you can find a great chip with lower fat. Read about Popchips, a Top Pick Of The Week. Photo by Naheed Choudhry.


Healthy Snacks Trivia Quiz
Answer A Few Food Trivia Questions & Learn More About Snack Foods
NOTE: You must have cookies or JavaScript enabled in your browser in order for the survey software to function.
Crazy For Snack Foods?

See Our Favorite Savory & Sweet Snacks—Including Healthy Snacks—In Our
Gourmet Snacks Section
Americans eat four or more snacks a day—more than 6.5 billion pounds annually. Salty snacks account for more than half of total snack sales, but that still leaves billions of pounds of sugary snacks consumed. With increasing focus on healthier lifestyles and better-for-you eating, it's no surprise that more than more 35% of consumers eat at least one healthy snack each day. Healthy snacks aren't limited to fresh fruit and crudités. You can find lower-fat, all-natural crunchy snacks and no-added-sugar fruit chips. You've just got to turn the package over and read the nutrition label. Lots of bags labeled "healthy" and "reduced fat" aren't particularly healthy, and the fat can be "reduced" from astronomical to merely high.
Answer four trivia questions and learn more about selecting healthy snacks.
TAKE THE QUIZ




Related Food Videos:



For more food videos, check out The Nibble's Food Video Collection.


© Copyright 2005-2015 Lifestyle Direct, Inc. All rights reserved. Images are the copyright of their respective owners.