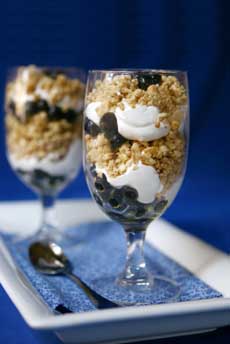 Today, yogurt has moved beyond a simple dairy staple to a glamorous topping and ingredient, as shown in this breakfast parfait. Learn about the different types of yogurt in our Yogurt Glossary. Photo by Katrina Brown | IST.


Yogurt Trivia Quiz
Answer A Few Food Trivia Questions & Learn Fun Facts About Yogurt
NOTE: You must have cookies or JavaScript enabled in your browser in order for the survey software to function.
Yearning For Yogurt Of The Artisan Variety?

Read reviews, recipes and articles about yogurt in our
Gourmet Yogurt Section
.
Cultured milk products (i.e., fermented by bacteria) such as yogurt have been produced for at least 4,500 years. Yogurt most likely began as an accident among nomadic tribes: Milk carried in goatskin pouches was fermented by wild bacteria living on the inside of the pouches. Imagine the brave person who first tried that sour-smelling, coagulated milk! While there is no proof of where yogurt originated—and it may have originated simultaneously in a variety of places—the word "yoghurt" is of Turkish origin.
Since those ancient times, yogurt has been a staple in diets of people in the Central European, Middle Eastern and East Asian regions. In 1919, a Greek from Thessaloniki (Salonica), Isaac Carasso, started a yogurt business in Barcelona and named it Danone after his young son. He moved to the U.S. during World War II and Americanized the U.S. company's name to Dannon. Soon after, in Prague, fruit jam was added to extend the shelf life of the yogurt (sugar is a preservative). This sweetened yogurt was introduced to the United States by Dannon in 1947. However, credit for introducing yogurt to the United States goes to Sarkis and Rose Colombosian, Armenian immigrants who launched Colombo and Sons Creamery in Andover, Massachusetts in 1929 (the brand is now part of General Mills). Yogurt became a cult health food in the 1950s and by the 1970s, with the influence of healthy California cuisine, it moved into the mainstream.
TAKE THE QUIZ




Related Food Videos:



For more food videos, check out The Nibble's Food Video Collection.


© Copyright 2005-2015 Lifestyle Direct, Inc. All rights reserved. Images are the copyright of their respective owners.