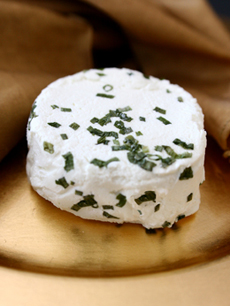 Young goat cheese is tangy and mild, lacking the stronger flavor and aroma of aged chèvre. This chive-coated beauty is from Cypress Grove Chevre, a NIBBLE Top Pick Of The Week.
August 2005
Last Updated February 2010

Cheese Tasting Terminology
Page 3: How To Describe Fresh Cheeses
CAPSULE REPORT: With guidance from our advisors at Murray's Cheese, one of New York City's top spots for cheese advice (and for buying the greatest cheeses in the world), we've divided our cheese terminology into categories to correspond with the major classes of cheese. If your surprised that so many adjectives could accrue to a simple piece of cheese...it's because cheese is hardly a simple food! This is Page 3 of a five-page article. Click on the black links below to visit other pages.
Fresh Cheeses

Fresh cheeses are delicate and usually eaten within days of their production, and have high moisture content. They are typically pasteurized and sweet with little salt; and used for breakfast, with fruit for dessert, or in cooking.

Examples: young chèvre (goat cheese), mozzarella, ricotta.

How would you describe these three different mozzarella cheeses? The descriptors below will help. These balls of mozzarella are from Mozzarella Fresca, a NIBBLE Top Pick Of The Week.
Fresh Cheese Textures

Aromas & Flavors

Airy
Creamy
Curdy
Delicate
Lactic
Moist
Pasteurized

Citrus
Grassy
Lemony
Mild
Sweet
Tangy
Vibrant
Continue To Page 4: Bloomy and Blue Cheese Descriptors
© Copyright 2005-2015 Lifestyle Direct, Inc. All rights reserved. Images are the copyright of their respective owners.