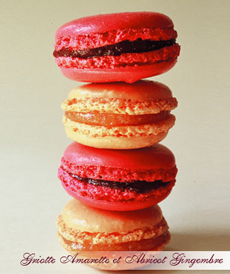 Macaroons from "le roi des macarons," Ladurée of Paris. Here, Cherry Amaretto and Apricot Ginger macaroons. Deftly combining flavors and colors is a Ladurée signature.
June 2009
Last Updated April 2010


Ladurée Macaroon Recipe
If You Can't Get To Paris, Try To Reproduce Them
If you love macaroons, put a visit to Paris's Ladurée on the "100 Things To Do Before You Die" list. Until then, try your hand at making the elaborate macaroons at home. This is Page 1 of a two-page article. Click on the black links below to visit Page 2.
Overview
No one tells us they're going to Paris anymore, because they know we'll beg them to bring back two boxes of macaroons from Ladurée, Paris's international temple of macaroon holiness. The great success of Ladurée's macarons is threefold:
The tenderness of the meringue
The quality of the fillings
The vivid flavors and colors
While the original macaroons were simple almond meringues (see The History Of Macaroons), French macarons can be spectacularly colored and flavored meringue "sandwiches." This concept was invented by Pierre Desfontaines Ladurée, who, at the beginning of the 20th century, had the idea to join two meringues into a sandwich cookie filled with ganache. The concept expanded, and today, centers of ganache, buttercream, jam or salt caramel (and who knows what's around the corner) offer a seemingly limitless combination of colors and flavors.
| | | |
| --- | --- | --- |
| Macaroon fans worldwide now make a pilgrimage to the Parisian bakery to gaze upon, buy and feast on dozens of exciting flavors. There are the basics, of course—Chocolate, Vanilla, Raspberry and Pistachio, the latter a customer favorite, along with Salted Butter Caramel and Raspberry. But attention must be paid to Blackcurrant Violet and special seasonal flavors like Anise, Chestnut, Basil Lime, Orange Blossom, Rose (heavenly!) and White Chocolate. This spring, Bergamot and Lily of the Valley made their debut. | | |
A precious box of Ladurée macarons, couriered back from Paris—a multicolored, multiflavored feast. Showing, from bottom left, are Pistachio, Bitter Chocolate, Four Red Fruits, Violet Cassis, Salted Butter Caramel, Strawberry, Cherry Amaretto, Chocolate and Ginger Lime.
And now, you can make your own! (Recipe on next page.)
More Memorable Paris Macarons
While you're in Paris, also visit the "newcomer," young pastry chef Pierre Hermé at 72, rue Bonaparte in the 6th arrondissement (the chic St. Germain des Prés area). He also wows the town with his macarons.

In addition to the "regular sandwich," Hermé takes the Ladurée concept one step further, making some macaroons with double filling flavors layered together—for example, a vanilla macaroon with a passionfruit ganache and a milk chocolate ganache.




Macarons from PierreHerme.com.
His chocolate macaroon has a chocolate caramel Fleur de Sel center. The macaroon with a Campari and grapefruit ganache is called "Americano Pamplemousse"—did Americans invent grapefruit juice with Campari? And we can't get enough of those pretty pink rose macaroons with rose petal ganache or jam (it's easy to find rose petal jam or jelly at Middle Eastern markets). You're tempted to buy two of everything, until you realize they're two Euros apiece.
Copyright 2005- 2015 Lifestyle Direct, Inc. All rights reserved. Images are copyright of their respective owners.