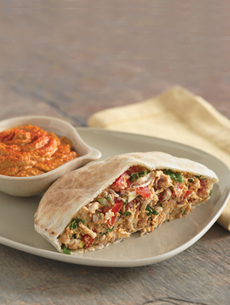 Served with peanut hummus, this Peanutty Pita packs in the nutrition. Photo courtesy The J.M Smucker Company.


2010 Peanut Butter Sandwich Recipe Winners
Recipe 2: More Rockin' Moroccan Peanutty Pitas
CAPSULE REPORT: This is the second of five award-winning, delicious and nutritious recipes developed by children in Jif's annual "Most Creative Peanut Butter Sandwich" college scholarship contest. Click on the black links below to see the other recipes. For more peanut butter recipes and product reviews, visit our Gourmet Peanut Butter Section.
More Rockin' Moroccan Peanutty Pitas
This chicken salad pita was created by six-year-old West Mylroie of Santa Clara, Utah. It is spruced up with a peanut hummus made with prepared hummus, peanut butter, paprika and lemon juice. The chicken, green onion and tomato would also pair nicely with a homemade Almond Hummus if you prefer. Yields four servings.
Ingredients
1 teaspoon smoked paprika, plus more for garnish
1 cup prepared hummus
½ cup creamy peanut butter
1 tablespoon lemon juice
½ cup chopped green onion
1 ½ cups shredded cooked chicken
1 large tomato, seeded and diced
2 tablespoons chopped cilantro
2 large pita pockets
Preparation
In a small bowl, combine paprika, hummus, peanut butter and lemon juice.
Transfer half of peanut butter mixture to medium bowl and combine with green onion, chicken, tomato and cilantro. Fill pitas with chicken mixture.
Cut into 8 triangles and serve with remaining peanut hummus.
Garnish sandwiches and hummus with a sprinkle of smoked paprika, if desired.

Next Recipe: PB & Fruity Says "Let Us Rap"
Recipes © Copyright The J.M. Smucker Company. All other material © Copyright 2005- 2015 Lifestyle Direct, Inc. All rights reserved. Images are the copyright of their respective owners.