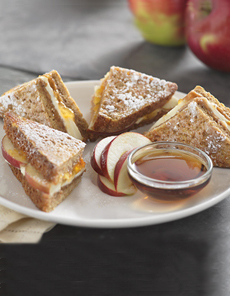 Why not enjoy peanut butter first thing in the morning in this Peanutty Cristo Breakfast Sandwich? Photo courtesy The J.M. Smucker Company.


2010 Peanut Butter Sandwich Recipe Winners
Recipe 5: Peanutty Cristo Breakfast Sandwich
CAPSULE REPORT: This is the fifth of five award-winning, delicious and nutritious recipes developed by children in Jif's annual "Most Creative Peanut Butter Sandwich" college scholarship contest. Click on the black links below to see the other recipes. For more peanut butter recipes and product reviews, visit our Gourmet Peanut Butter Section.
Peanutty Cristo Breakfast Sandwich
This Peanutty Cristo Breakfast Sandwich is a great way to start off your day. Created by 11-year-old Maria Boucher of East Longmeadow, Massachusetts, the sandwich is prepared with peanut butter, apricot preserves, reduced-fat cream cheese and apples before it's placed in a sweetened batter and pan-fried until warm and golden brown. For extra sweetness, sprinkle confectioners' sugar over the top of the warmed sandwich and dip it in maple syrup before your first bite.
Ingredients
2 tablespoons creamy peanut butter
1 tablespoon reduced-fat cream cheese
2 teaspoons apricot preserves
½ small to medium red apple, core removed and sliced into 6 slices
2 slices whole wheat bread
¼ cup skim milk
¼ cup egg substitute
1/8 teaspoon vanilla extract
1 teaspoon sugar
½ tablespoon butter
¼ cup maple syrup
Sprinkle of confectioners' sugar
Preparation
Spread 1 tablespoon peanut butter on one slice of whole wheat bread and spread apricot preserves on top of the peanut butter.

Spread the second tablespoon of peanut butter on the second piece of whole wheat bread and spread reduced-fat cream cheese on top of the peanut butter.

Place the 6 apple slices in a single layer on top of the cream cheese. Place the first slice of bread on top of the slice with the apples.

In a shallow bowl, mix the skim milk, egg substitute, vanilla and sugar. Set aside.

Melt butter in a small frying pan over medium heat until the pan has a coating of butter. Remove extra butter and set aside to use if needed.

Carefully coat both sides of the sandwich with the egg substitute by placing in a shallow bowl for a few seconds on each side.

Place in the fry pan and cook until one side is lightly browned, then carefully flip the sandwich and cook until the second side is lightly browned. Remove from heat and cool for a few minutes before slicing into four quarters.

Place the sandwich on a plate with extra apple slices, maple syrup in a small cup for dipping and a sprinkle of confectioners' sugar.
Recipes © Copyright The J.M. Smucker Company. All other material © Copyright 2005- 2015 Lifestyle Direct, Inc. All rights reserved. Images are the copyright of their respective owners.