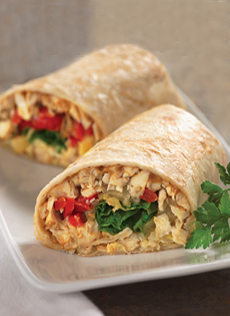 Peanut butter mixed with pineapple juice and soy sauce is spread along the sides of this tortilla as a sweet and tangy condiment. Photo courtesy The J.M Smucker Company.


2010 Peanut Butter Sandwich Recipe Winners
These Award-Winning Peanut Butter Sandwich Recipes Are A Hit With Both Kids & Adults
Recipe 1: Chickenchita Wrap
CAPSULE REPORT: Last fall, The J.M. Smucker Company, maker of Jif peanut butter, held its eighth-annual "Most Creative Peanut Butter Sandwich" contest for kids, with college scholarship awards as prizes. Five finalists won a trip to New York City for a final judging. Even though the creators of these sandwiches are all under the age of 13, adults will enjoy them, too. They make a wonderful adult-child cooking activity. This is the first of five recipes. Click on the black links below to see the other recipes, including the grand-prize winner: PB & Fruity Says "Let Us Rap" (and that's a mouthful!). For information on the current year's contest, visit Jif.com.
Chickenchita Wrap
Ten-year-old Stephanie Hosko from Plymouth, Michigan, used Asian influences in her peanut butter sandwich. She created a Chickenchita Wrap, full of chicken, lettuce and red pepper with a dressing of peanut butter, pineapple juice and soy sauce. Also take a look at the P-Nutty Chicken Wrap, a runner-up in 2008. It also combines peanut butter and chicken in a wrap sandwich, and is even easier to make.
Ingredients
2 tablespoons creamy peanut butter
1 small can crushed pineapple in juice
2 teaspoons of soy sauce
3 tablespoons olive oil
1 large flour tortilla*
1 chicken breast
½ cup red pepper strips
2 large lettuce leaves (such as romaine)
2 rosemary sprigs
Parsley or chives for garnish (optional)
Salt and pepper
*Consider adding extra flavor with a flavored tortilla. See our favorites, Tumaro's Gourmet Tortillas.
Preparation
Mix together peanut butter, 2 tablespoons of the pineapple juice and 2 teaspoons soy sauce. Set aside.
Rub the chicken breast with 1 tablespoon of the olive oil, and season with the rosemary, salt and pepper.
Heat another tablespoon of the olive oil in a large frying pan, and grill the chicken until cooked through, then set aside.

Add the red pepper strips and sauté until soft.

Spread the peanut butter mixture onto the tortilla, leaving about a half inch border.

Cut the chicken into small, bite-sized pieces. Layer the diced chicken, red pepper strips, 2 tablespoons crushed pineapple and the 2 lettuce leaves on top of the tortilla.

Roll the tortilla up envelope-style, and tuck in the sides. Heat the last tablespoon of olive oil on a grill pan over medium heat. Slowly grill the tortilla, turning once, until crisp.

Garnish with a dollop of peanut butter, and a sprig of parsley or a few chives.

Next Recipe: More Rockin' Moroccan Peanutty Pitas
Recipes © Copyright The J.M. Smucker Company. All other material © Copyright 2005- 2015 Lifestyle Direct, Inc. All rights reserved. Images are the copyright of their respective owners.