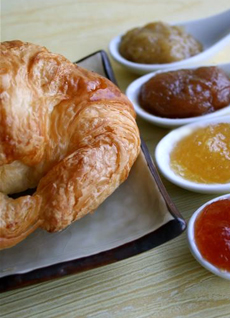 Send your croissant on a trip to the tropics with Sweet Serenade tropical fruit jams. Photo by Daniela Cuevas | THE NIBBLE.

KAREN HOCHMAN is Editorial Director of THE NIBBLE.

Sun-Rich "Sweet Serenade" Jam
Page 2: Tropical Jam Overview
This is Page 2 of a three-page article. Click on the black links below to visit other pages.
Sweet Serenade Jam Flavors
These jams are indeed a sweet and welcome serenade—but not too sweet, which is a flaw in jam-making. You should taste the fruit, not the sugar; most jams are too sugary, compensating for fruit that is not bursting with naturally sweet flavor. With such fine, tree-ripened Mauritius fruit, the sweetness is natural, the flavor of the fruit true, the need to add extra sugar minimal. You taste guava, mango, pineapple—not sugar.
Banana Jam

. It's like eating a banana in jam form; more elegant than a mashed banana, and perfect for a peanut butter and banana jelly sandwich or some chocolate spread.
Calamondin. A rarity in the U.S., calamondin is a lime that looks like an orange. It has a refreshing acidic-citrus taste, and is prized by top chefs. The calamondin lime used to be grown in Florida and California until the easier-to-cultivate Bearss/Persian/Tahitian lime became our supermarket lime. Some heirloom fruit can still be found in farmer's markets. Learn more about the calamondin in our Lime Glossary. See also Robert Lambert's Calamondin Marmalade, made from California calamondins.
Guava Jam. Guava lovers will appreciate this excellent guava jam—much finer than supermarket versions available at international markets. A real treat.




Don't be shy: Here's your opportunity to try exciting new jam flavors like banana, calamondin guava, papaya and pineapple. Photo by Emily Chang | THE NIBBLE.

A bevy of tropical beauties: Papaya Passion
Fruit, Pineapple, Guava and Banana. Photo by
Daniela Cuevas | THE NIBBLE.

Litchi (Lychee) Jam. Litchi is a heavenly flavor, too seldom found here. Get past the exotic spelling and be sure to try this one!
Papaya Passion Fruit & Papaya Vanilla Jam. Here are two opportunities for papaya lovers. While Papaya Passion Fruit may seem the more authentic tropical spread, vanilla is actually the stem of an orchid, Vanilla planifolia, the only edible variety of approximately 25,000 known species of orchid. The orchid originated in Mexico, which was the chief producer of vanilla until the mid-19th century. In 1819, French entrepreneurs planted Vanilla planifolia from Mexico on Réunion, an island east of Madagascar that is one of the 26 regions of France, and nearby Mauritius, then the Comoros Islands and Madagascar. By 1898, these islands off the southeast coast of Africa were producing 80% of the world's vanilla.
Pineapple & Pineapple Mango Jam. Mmm, almost as good as having a fresh pineapple! The jam is chunky and satisfying.
Every flavor in the line is a winner, and we'd happily receive a gift box with each one.
Continue To Page 3: Serving Suggestions
© Copyright 2005-2015 Lifestyle Direct, Inc. All rights reserved. Images are the copyright of their respective owners.