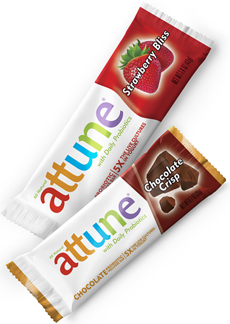 Attune produces the first probiotic candy bars and granola bars "with Daily Probiotics" (see the green sentence on the label). Read our full
review of Attune Wellness Bars
.
ABOUT THE AUTHOR
STEPHANIE ZONIS focuses on good foods and the people who produce them.

Probiotic Foods: 2008 Update
Part X: Conclusions & Sources
This is Part X of a ten-part article: conclusions and sources. Use the article index below to click among the pages.
Conclusions
Much of what I concluded in the original article is still true. When so much remains to be learned about probiotics and their ilk, consuming every prebiotic- or probiotic-containing food or supplement available is foolish, as is consuming excessively large quantities of prebiotic or probiotics (or both). I continue to consume yogurt and kefir on a regular basis (and lassi when I can get it), because they are good foods. The fact that all contain probiotics (and often prebiotics) is of somewhat greater importance to me than it was twelve months ago. If you want a change from dairy foods, or don't consume them but still want to ingest prebiotics and/or probiotics, try unpasteurized fermented vegetables like sauerkraut, or some of the other products described earlier in this article. Don't neglect the rest of your diet and think you can still remain healthy just because you ingest probiotics, though.
I continue to regard the claims of nutraceuticals and supplements with, well, not so much a grain of salt as with a shaker full. Remember, supplements remain largely unregulated. Regulations on current Good Manufacturing Processes are being phased in, but won't become fully effective until the summer of 2010. At least until that time, you'll see overblown claims for supplements (and, I'm sure, for some foods). Stop and think before you buy! If you have questions, USProbiotics.org is a terrific resource; see their FAQ page for guidelines and questions to ask manufacturers.
Prebiotics, probiotics and synbiotics have a lot of potential to positively affect health in the future, but bear in mind that good health has never been a matter of just swallowing a few pills or capsules. It's a rocky, difficult path that is especially hard to stay on in this society of sedentary lives, stress and cheap, quick food and supplements. And I cannot emphasize too strongly that much more research is needed. More is being done, yes, but many such projects are pilot studies, and not all trials are properly conducted, leaving questions regarding the validity of their results. I believe that prebiotics, probiotics and synbiotics may one day change the way we look at certain conditions, infections and diseases, but magic bullets they are not.
Sources
People
Anzalone, Alex, Formula Public Relations
Ballantine, Jarod, WhiteWave Foods
Collins, Laura, DVM
Dave, G.T., Millennium Products
Demers, Jean-François, Liberté
Druchniak, Carmelle, Senior Communications Manager, Stonyfield Farm
Elwell, Christian, President & Owner, South River Miso
Frega, Ben, Great Lakes Kraut
Hamdi, Chobani Greek Yogurt
Jeff, Katalyst Kombucha
Kornblatt, Lisa, SSPR
Kozlenko, Richard, PhD, Healthy Dairy
Lisa, Painted Pepper Farm
McAfee, Mark, Organic Pastures
Rooney, Dr. Alejandro, Research Geneticist and Curator of Bacteria, ARS Culture Collection, National Center for Agricultural Utilization Research
Rosenberg, Dan, Real Pickles
Sanders, Mary Ellen, PhD
Sauerkraut Seth, Hawthorne Valley Farm, www.hawthornevalleyfarm.org
Shurtleff, William, SoyInfo Center
Websites
Articles & Studies
Anthony, Mark, PhD, "Inulin: the 'In' Fiber," Food Processing, 2005
Bausserman, M. and Michail, Sonia, "The Use of Lactobacillus GG in Irritable Bowel Syndrome in Children: A Double-blind Randomized Control Trial," The Journal of Pediatrics (August, 2005), Volume 147, Issue 2: 197-201
Bekkali, N., et al, "The role of a probiotics mixture in the treatment of childhood constipation: a pilot study," Nutrition Journal 2007, 6:17
Bu, L.-N., et al, "Lactobacillus casei rhamnosus Lcr35 in children with chronic constipation," Pediatrics International 49 (4): 485-490
Condor, Bob, "'Friendly' Probiotics Have Some Cons, Too," SeattlePI.com, December 18, 2006
Fan, Y.-J., et al, "A probiotic treatment containing Lactobacillus, Bifidobacterium, and Enterococcus improves IBS symptoms in an open label trial". Journal of Zhejiang University SCIENCE B (2006),Volume 7, Number 12: 987-991
Figueroa, Paz, Dir.,"Clinical Trial: Preventing Antibiotic-Associated Diarrhea Using Erceflora" (trial number NCT00447161), March 13, 2007, from
http://clinicaltrials.gov/ct2/show/NCT00447161?cond=%22Diarrhea%22&rank=37
Food Business Review, "Lifeway Foods Introduces Probiotic Kefir Wellness Snack Bars," March 17, 2008
Francavilla, R., et al, "Inhibition of Heliobacter pylori infection in humans by Lactobacillus reuteri ATCC 55730 and effect on eradication therapy: a pilot study," Alimentary Pharmacology & Therapeutics (April, 2008), 13 (2): 127-134
Gluck, U. and Gebbers, J.O., "Ingested probiotics reduce nasal colonization with pathenogenic bacteria (Staphylococcus aureus, Streptococcus pneumoniae, and beta-hemolytic streptococci)," American Journal of Clinical Nutrition (February 2003); 77 (2): 517-520
Hickson, M., et al, "Use of probiotic Lactobacillus preparation to prevent diarrhea associated with antibiotics: Randomised double blind placebo controlled trial,"BMJ, 2007, 335 (7610): 8083
Kajander, K. et al, "Clinical trial: multispecies probiotic supplementation alleviates the symptoms of irritable bowel syndrome and stabilizes intestinal microbiota," Alimentary Pharmacology & Therapeutics (January, 2008), Volume 27, Issue 1: 48-57
Kajander, K., et al, "A probiotic mixture alleviates symptoms in irritable bowel syndrome patients: a controlled 6 month intervention". Alimentary Pharmacology & Therapeutics (September, 2005), Volume 22, Issue 5: 387-394
Lionetti, E., et al, "Lactobacillus reuteri therapy to reduce side-effects during anti-Heliobacter pylori treatment in children: a randomized placebo controlled trial,"Alimentary Pharmacology & Therapeutics (November, 2006), 24 (10): 1481-1486
Moskin, Julia, "The All-Natural Taste That Wasn't," The New York Times, April 23, 2008
Myllyluoma, E., et al, "Probiotic supplementation improves tolerance to Heliobacter pylori eradication therapy—a placebo-controlled, double-blind, randomized pilot study,"Alimentary Pharmacology & Therapeutics (May, 2005), 21 (10): 1263-1272
Norris, Maya, "TCBY Returns to its Frozen-Yogurt Roots," Chainleader.com, November 19, 2007
O'Mahony, Liam et al., "Lactobacillus and Bifidobacterium in Irritable Bowel Syndrome: Sympton Responses and Relationship to Cytokine Profiles,"Gastroenterology (March, 2005), Volume 128, Issue 3: Pages 541-551
"Pinkberry Settles Suit Over Claims on Dessert," The New York Times, April 12, 2008
Perdriset MD, Gilles, Dir., "Clinical Trial: Spores of Bacillus Clausii in Acute Diarrhea in Children" (trial number NCT00265369), November 4, 2005, from
http://clinicaltrials.gov/ct2/show/NCT00265369?cond=%22Diarrhea%22&rank=45
Progressive Grocer, "Kraft Expands LiveActive Line," March 27, 2008
Roderick, Kevin, "Pinkberry's Legal Jam," LA Observed, June 14, 2007
Sanders, Mary Ellen (Chair) et al, "Probiotics: Their Potential to Impact Human Health," Council for Agricultural Science and Technology (CAST) Issue Paper Number 36, October 2007
Sazawal, S., et al, "Effiicacy of probiotics in prevention of acute diarrhea: A meta-analysis of masked, randomized, placebo-controlled trials,"The Lancet Infectious Diseases (June, 2006), Volume 6, Issue 6: 374-382
Tubelius, P., et al, "Increasing work-place healthiness with the probiotic Lactobacillus reuteri: a randomized, double-blind, placebo-controlled study". Environmental Health (November 2005), 4: 25
Weizman, Z., et al, "Effect of a probiotic infant formula on infections in childcare centers: Comparison of two probiotic agents". Pediatrics (January 2005), 115 (1): 5-9
Whorwell, P.J. et al., "Efficacy of an Encapsulated Probiotic Bifidobacterium infantis 35624 in Women with Irritable Bowel Syndrome,"The American Journal of Gastroenterology (July, 2006), Volume 101, Issue 7: page 1581
Continue to the Probiotics Glossary
Go To Article Index At Top Of Page
Recent Articles From Our NutriNibbles™ News Feed:
Subscribing notifies you whenever there are
new additions to the NutriNibbles section.

Subscribe to THE NIBBLE NutriNibbles by Email