Form, Function & Fun

CAPSULE REPORT: Several brands of incredibly delicious artisanal pastas—this bowl of bowties would taste great even if you were blindfolded. Take off the blindfold and you could be eating something on display at a craft gallery. Beautiful shapes of pasta in colors that are radiant even after cooking, these pastas from northern and southern artisanal producers elevate a popular but everyday meal—a bowl of pasta—to a gourmet feast. If you like your pasta in the traditional white, there are dozens of selections equally dazzling to the eye. To purchase, click here.

To read the full review below, click here. (If your e-mail client does not support anchor links, scroll down.)
For pasta articles and recipes in THE NIBBLE™ online magazine, click here.
For the table of contents of the March issue of THE NIBBLE™ online magazine, plus the back issues archive, click here.

When you serve these gorgeous rainbow bowties from Pozzo del Re, they're the main event—and almost the centerpiece. Photo by Gina Erdmann.


WHAT IT IS: Pastas from artisanal Italian manufacturers: Alta Valle Scrivia in Genova, Giacomo Rizzo in Venice, Pasta Ficari in Rome, Pozzo del Re and Marella in Puglia.
WHY IT'S DIFFERENT: Outstanding wheat and production techniques yielding exquisite flavor and unusual and stunning shapes. Pozzo del Re and Giacomo Rizzo pastas have the vivid colors of an artist's palette.
WHY WE LOVE IT: Aside from being among the best pasta you'll ever taste, what else can you boil for 15 minutes that puts a remarkable-looking and fun-to-discuss feast on the table?
Pasta Perfect







Pasta

, by Silvano Serventi. Covering an extensive overview about pasta from China to Italy, this book is your pasta encyclopedia. From stuffed pasta to ramen, Serventi lays out a thorough pasta history as well as the technological breakthroughs that have changed the way pasta is made and enjoyed today. $29.95.

Click here

for more information.

The Complete Book of Pasta and Noodles.

Master the studies and art of making pasta from all over the world. Compiled by the editors of

Cooks Illustrated Magazine

, the book offers illustrated step-by-step instructions on how to roll pasta dough to making Ramen Noodles with Roast Pork and Spinach. $12.97.

Click here

for more information.

Let's Cook Pasta

, by Jeni Wright

.

With over 40 easy recipes making use of both dried and fresh pasta, you will never make pasta less than absolutely amazing. Learn everything from how to form the various shapes of pasta to coloring and silhouetting the flour-based food. Healthy options and menu suggestions are also included. $17.95.

Click here

for more information.
Great Artisanal Pastas: Form, Function & Fun

Impressive Pasta For Everyday & Entertaining
To think that the pasta you buy doesn't matter would be like thinking of the wine or cheese or ice cream you buy as generic. If you thought that were true, you probably wouldn't be reading THE NIBBLE™.
Pasta is one of our favorite foods, and we have always been pleased with Barilla or DeCecco, available at most fine supermarkets, for "everyday." But over the past year or two, realizing that one shouldn't save the beautiful dishes and serving pieces for a few special occasions a year but enjoy them on a regular basis, we haven't been saving the "good pasta" for dinner parties either. We have been treating ourselves weekly to the great Italian artisanal pastas that we find in our specialty food stores and online.
A fine box of everyday pasta can be bought at the supermarket for $1.09 to $1.39; it's a bargain and it tastes good, so why spend more? Well, given the cost of a decent piece of cheese or a box of cookies from the bakery, to shirk from spending $5.90 to $18.20 a pound* for some of the world's most exquisite pasta is looking at the numbers the wrong way. Bargain-hunting looks even more foolish when a restaurant plate of pasta that may not even taste as good costs $14.50. Before you bring up the added value of the sauce, note that we are about to introduce you to pastas that are so fabulous that one of the easiest ways to serve them is simply to toss them with butter and parmesan cheese or garlic and oil. And while we're on the topic, the Italian way is to enjoy the taste and texture of great pasta with a splash of sauce, not to drown the pasta in a sea of it.
*Italian pasta is sold in 500-gram bags, or 17.6 ounces, instead of 16-ounce (1 pound) American weights. All prices in this article are given for 500-gram packages, except as noted for Giacomo Rizzo pastas, which are 225-gram packages.
That having been said, the more traditional shapes of pasta you'll meet below are usually eaten with sauces that have been paired with them for centuries in the particular areas where they have always been made—every country has its regional specialties, and Italy is no different. There are hundreds of pasta shapes in this nation of strong culinary tradition and great aesthetic. Yet because these are modern artisanal companies, the artists continue to create; and the very unusual shapes (known as "cuts") of pasta we'll present are a clear and exciting departure from tradition.
The new cuts lend themselves equally well to any type of sauce; although in general the heavier-weight southern-style pastas pair better with meat- or tomato-based sauces, while the northern-style pastas go well with creamier and more buttery sauces. There's more about the historic differences in the yellow yellow box below.
Italian Harvest, "Shepherd" of Artisanal Pastas
Our hero in this story is an American company called Italian Harvest, which imports great artisanal foods from regions in Italy that have little or no U.S. representation and makes them available to all of us online. (They also have retail stores in the North Beach neighborhood of San Francisco and in nearby Mill Valley, and sell their products to fine retailers.) Their pasta selection includes four noteworthy brands: Pozzo del Re and Marella, made by the same family in Puglia; Giacomo Rizzo in Venice; Alta Valle Scrivia in Liguria; and Pasta Ficari in Paliano, a province of Rome. They offer not just the flavor and texture of superior blends of semolina† and centuries-old artisanal processes, but creative, exciting cuts.
†Semolina is the flour made from durum wheat, the only wheat used for Italian pasta, the only wheat that is hard enough to achieve an al dente texture during cooking.
Yes, these artisanal producers do make the traditional long cuts (spaghetti, linguini, fettuccini et al) and short cuts (shells, penne, ziti, fusilli, elbows, et al) and they will be the best that you have ever had. But our purpose here today is to introduce you to the kind of cuts that, when we first saw them in a shop at the Ferry Building in San Francisco, kept us as spellbound, excited and charmed as any museum exhibition of Monet still life. The difference between the museum exhibit and the food store exhibit was, at the latter we could afford to buy one of everything.
On The Menu ~ Southern Italian Pasta
Southern Italy makes a heavier style of pasta—the kind most familiar to us as the dried pasta in the supermarket (northern-style pasta has more of a "dumpling" texture). This has to do with the different varieties of durum wheat that grow in completely different climates and soil types, as well as due to traditional usage. Puglia, the region in the "heel" of the boot of Italy, has been home to pasta-makers for centuries. Puglia is also known as "il tavoliere d'Italia," a plain of growing regions and one of the few places in Italy where the durum wheat necessary to make pasta grows; so it has always been a prime area for the production of pasta.
Antonio Marella and his family, plus a team of dedicated artisans, have been producing pasta since 1987 in Gioia del Colle, a town nestled between Bari and Taranto. One of their brands, Pozzo del Re ("Well of the King"), is derived from the tradition that King Federico II of Sicily (1273-1336) had of stopping after a hunt to quench his thirst at a well that was located near where the factory stands today. (For more modern association with glory, Gioia del Colle is the hometown of the family of Hollywood actor Sylvester Stallone; and California's Zinfandel grapes were derived from the rootstock of Puglia's Primitivo grapes.
This artisan pasta factory uses select grains and slow processing techniques to create two lines of pasta—Marella white pasta and the rainbow-colored Pozzo del Re—that are among the best on the market today.
Pastificio Marella: Big Class, Class Act
The pastificio (pasta factory) is a busy place; with 32 different cuts available from Marella alone, it can keep any pasta-lover busy just getting to know this magnificent line. If you're from the old school, Marella has fusilli, penne, rigatoni, spaghetti and ziti that will knock your calzini off. If you want nuovo excitement, they have plenty of that, too.
The Traditional: Orecchiette ("little ears") are one of the earliest pasta shapes, made by hand by the peasants on Pugliese farms. They are traditionally served with garlic, olive oil, hot peppers, and rapini—all of which grow easily in the farmlands of Puglia and are a staple of the local peasant populations ($8.25). The importers love the Fusilli Lucani—as do we. Beautiful to look at (photo at right), they have a great mouthfeel ($5.90).
The Innovative: Trottoloni—another favorite of the importers—are shaped like large spinning tops ($5.90); Capricci ("capricious"), are big squiggles ($5.90). There's even a Cornucopie shape in this cornucopia of dozens of choices on the website ($5.90). See some of our favorites below.
The Historic: There are four cuts of "Senatore Cappelli" pasta made from a special high-gluten wheat—15% instead of the usual 9% to 10% gluten. The strain was allowed to go virtually extinct in 1915 because of low yields and growing requirements. Brought back by a dedicated cooperative of organic farmers and named for a former minister of agriculture, this pasta delivers wonderful texture and flavor and should be tried by any pasta-lover ($6.00).
We love them all, but three favorites are:
| | | |
| --- | --- | --- |
| | | |
| Lanterne, "lanterns," were developed to capture chunks of sauce and look great doing it. We make pasta salad with it, and guests don't talk about anything else all day ($5.90). | Foglie d'Oliva are shaped like olive leaves and have olive mixed into the dough. Serve them as a side instead of potatoes or rice. As a pasta dish with olives and olive oil or a red sauce, they are spectacular ($11.35). | Spugnole, "small sponges," are geometric, dense, chewy and great sauce-catchers. They look beautiful as a side dish as well. If you thought spaetzle were alluring, wait until you see these ($5.90). |
Pastificio Pozzo del Re: Over The Rainbow
Combine a rainbow of colors into a piece of pasta—to the point where people ask, "How do they do that?"—and you have the Pozzo del Re line from Marella. It is a complex craft to create a seamless rainbow, sometimes in a ridged pasta, that also keeps its colors when cooking. But, we can attest, both hold. Unlike other brands we've bought, the colors don't wash out in the boiling water. And though we were skeptical, even the Mexican sombreros—Sombreroni—held their shape.
Ever since we started to buy the Pozzo del Re line, we've been hooked. Like seeing old black and white movies and TV, white pasta has its charm, but we don't want to go back there. These works of color on our plate enliven the entire meal: if there is only a plate of Pozzo del Re pasta—no sauce, no cheese, no wine, no dessert—it is a happy meal. Add those other elements and it is a feast.

A bowl of Lingue de Suocera (Mother-in-Law's Tongues, photo at right), is a showstopper—with or without the tasty saffron cream and lobster recipe on the website ($18.20). It's almost a diet food: when we brought these exquisite, long ribbons of pasta to the table, it was almost too beautiful to eat. (Ultimately, we managed seconds.)
The Farfalle Arcobaleno (Rainbow Bowties) at the very top of this newsletter are another showstopper ($18.20).


Photo of Lingue de Suocera, "Mother-in-Law's Tongues," by
Gina Erdmann.
But then, one could say that about almost every item in this line. Half a dozen people, including children, who ate the Sombreroni (Large Mexican Hats) we cooked—you stuff them like shells, it's easy—wistfully keep asking when we will be having them again ($12.70). We haven't the heart to tell them that in NIBBLEdom, the product tastings march forward, not backward.
| | | |
| --- | --- | --- |
| | | |
| Capricci Multicolor is like eating large colored squiggles—we call it confetti pasta. Enjoy it year-round; it also makes a festive summer, fall and Halloween hot pasta dish and pasta salad ($10.00). | With Linguine Arcobaleno (Rainbow Linguini) you can tell guests they're eating lots of little rainbows. They won't even ask if there's a pot of gold at the end because the pasta is just so good ($10.90). | Sombreroni (Sombreros), are boiled, filled with your favorite cheese or meat stuffing, and baked. The pasta quality is so magnificent, the hats and bottoms don't fall apart when boiled ($12.70). |
More On The Menu ~ Northern Italian Pasta
Head north and there's more color—even more vivid than at Pozzo del Re. But before we head to the bright Carnival of Venice on the Adriatic, let's visit Genova (that's genova in English) on the Mediterranean, home to great sailors including Christopher Columbus.
Alta Valle Scrivia: Traditional Ligurian Specialties
Alta Valle Scrivia is operated by two young brothers in the hills above Genova who make some of the best pasta in the region. They adhere scrupulously to the traditional ways and grains, and make shapes that are steeped in the history of Liguria.

Croxetti. We cruise specialty pasta sections but had never heard of the traditional coin pasta of Liguria—it's a rarity on this side of the pond. These hand-stamped discs used to be made in the homes of the local peasants, and featured a coat of arms representative of the region. The hand-stamped discs from Alta Valle Scrivia bear a coat of arms that goes back to medieval times, representing the valley of Montoggio, the small village in the interior of Genova where they have their small factory. The other side of the "coin" bears wheat stalks, honoring the durum ($7.50).




Croxetti, the traditional coin pasta of Liguria. The two sides of
the coin are shown at the top: on the right, the coat of arms of the valley of Montoggio where the pasta factory is located; on the left, stalks of wheat.
Trofie (elsewhere called trenette), a rolled pasta, is a typical Ligurian cut and is almost always eaten there with Pesto alla Genovese. An easy dish to make, it is as close as one can get to experiencing a dinner in Liguria ($6.80).

Pastificio Giacomo Rizzo: A Pasta Carnival in Venice
Giacomo Rizzo is a very small pasta factory in the middle of Venice, near the Ponte di Rialto. A fourth-generation family makes pasta in the traditional Venetian way. They have made their personal mark with interesting colors and non-regional flavors that Venice, a major seaport, has for centuries imported from the far east and other points of the globe. Thus, there are not only northern Italian flavors like balsamic vinegar, but international ones like blue curaçao and turmeric.
Upon tasting it, the characteristic Rizzo silkiness and the delicious northern Italian "dumpling" quality are apparent. Don't let the showgirl colors keep you away: these are the products of the very best grains and artisanal processes.
Arlecchino Pasta. This colorful fettuccini is named for Arlecchino (Harlequin), an important Commedia dell'Arte figure who makes frequent appearances during the Venice Carnival in February. The playful colors of the pasta are the colors he dons, and they bring a festival atmosphere to any meal whether it's a congratulatory event or a get-well comfort food dish ($12.70 for 8.8 ounces).
Rainbow Bowties. We think of these more as colorful zebras: festive bowties with the subtle flavors of the ingredients that make up the colors. If bowties are dapper to begin with, these striped dandies definitely are "Puttin' On the Ritz." You can mix them in with regular bowties for a terrific effect in a hot dish or a pasta salad ($12.70 for 8.8 ounces).
Balsamic Vinegar Pappardelle. Pappardelle are a wider version of fettuccine. This unusual, velvety-textured pasta has the subtle flavor of balsamic vinegar. Venetians serve it with a simple cream sauce. Add a salad dressed with balsamic vinegar, of course ($11.50 for 8.8 ounces).
| | | |
| --- | --- | --- |
| | | |
| Arlecchino Pasta. It's not just kid stuff: make it and pretend you're having Picasso and Dali over for dinner. They'd have loved it. | Balsamic Vinegar Pappardelle. Sleek and sophisticated, a gourmet treat for any pasta-lover. | Rainbow Bowties. It doesn't get more fun than this...unless, of course, you serve these dazzlers together with the Arlecchino Pasta. |
On The Menu - The Long Cuts

Beyond Spaghetti and Linguini
Cutting across all of Italian Harvest imports, there are the "long cuts." If you like to twirl long strands of pasta (and who doesn't), here are four must-trys that will be as exciting as discovering that there are ice cream flavors beyond vanilla. One is made by Marella; another is made by a fourth producer, Pasta Ficari, a company based in the town of in Paliano, outside of Rome, that specializes in sourcing and packaging small specialty brands from all over Italy.
Bucatini. A thick spaghetti with a hole running down the center (like a straw), it's the main ingredient in the famous dish "Bucatini all'Amatriciana," a classic pasta dish made with guanciale (cured pig jowls, or substitute pancetta), diced ripe tomatoes and hot peppers, sauteed in olive oil and served with grated pecorino cheese. Pasta historians note: the dish is always attributed to Rome; but as its name indicates, it's from Amatrice, just over the border in Abruzzo. From Pasta Ficari ($4.50).
Canule. Long twists of hearty Pugliese pasta. The twists loosen a bit in the cooking, but they're still swirly, fun and delicious. From Marella ($5.90).
Long Ziti. Tubular pasta the length of spaghetti, it is often served in the Abruzzi region with a tomato and lamb sauce. If you love regular ziti, these are tubular to the max. From Pasta Ficari $11.80).
Sagne Incanulate. Long, tightly-coiled pasta (think ringlets) that holds its shape after cooking. From Pasta Ficari ($8.50).
| | | |
| --- | --- | --- |
| | | |
| Canule from Marella are long twisted spaghetti—more fun (and less slippery) than the plain strands. | Long Ziti from Pasta Ficari are long tubes—if you like the short ones, you'll go crazy for these. | Sagne Incanulate from Pasta Ficari are like long ringlets—they hold their shape when cooked. |
The review concludes below the yellow box.
Why Are These Pastas Special?
It Starts With The Wheat
Not all durum wheat is created equal: in general, you get what you pay for. The quality can be distinguished by noting the golden color and taste differences between these brands and the best pasta you currently use. The different shapes have no bearing on quality, although the rougher the exterior and the more grooves in the shape, the better the sauce will cling.
Bronze Dies
Large factories extrude pasta dough through teflon dies: it's smoother and faster. Artisanal pastas use bronze dies, which impart a rougher texture. This holds sauce better and gives it an interesting rougher surface presentation.
Drying Time
Depending on the type of pasta, the extruded shape is allowed to dry for 20 to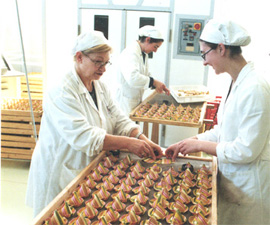 48 hours at the low temperature of 84°F to 92°F. By comparison, industrial pasta (supermarket brands) is dried at a 194°F to 203°F for a short time. This allows the large companies to rapidly produce pasta as well as to produce pasta that has a longer shelf life.
A pleasant surprise that is not immediately obvious upon first purchasing these pastas is the way they appear once cooked. The pasta enlarges to such a size that one package will feed 6 to 8 people, while an analogous size package of a typical brand usually feeds 4 to 5 people. (Photo: Sombreroni from Pozzo del Re. You can stuff them like ravioli, and they hold their shape–a pointed hat.)
Colored Pastas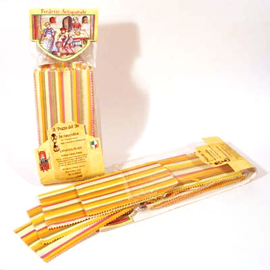 Pasta is colored with dehydrated natural dyes extracted from spinach (green); tomatoes, red pepper, and carrots (orange); red beets (red), turmeric (yellow); and squid ink (black). The dyes are not intended to impart a large amount of flavor; they largely follow custom. For example, in Rome and nearby communities, it has been customary for centuries to add spinach to the pasta to make it green, or red pepper to the pasta to make it "red" (it actually yields an orange hue). In the islands of Sicily and Sardegna where fishing is a mainstay, squid ink is added to the pasta to make it black and to give it flavor; the prepared dish is further enhanced with a squid ink sauce. Dishes have taken on a tradition: black pasta with seafood sauce, spinach pasta with spinach ricotta sauce, e.g. The colors in the present-day pastas add fun, provide an aesthetic and stimulate dinnertime conversation.
It's important to note that not all colored pastas are equally stable. There are those that are pretty to look at in the package, but the dyes wash out in the cooking water. We assure you that these brands are the real deal: the pasta on your plate will be as vibrant as the pasta in the package. (Photo: Lasagna from Pozzo del Re)
Artisanal Pastas In General
Italy has very ancient factories that have been preparing foods in the same way on the same equipment for centuries. The products made by these factories are impossible to replicate in other factories, often because the equipment is imbued with the flavors of centuries of use; but more so because traditional methods and secrets have been fine-tuned through the generations, as have the careful selection of ingredients that demand only the best. Examples of these are the glorious factories of Romanengo in Genova, Pelino in Sulmona and Majani in Bologna—all of whose products are very difficult to import to the U.S. because of the high costs of their unsurpassable high-quality and the fact that the factories' limited-quantity manual production does not produce enough volume for export. If you are in Italy, do see if you can acquire some: it will be worth the trouble to carry it home in a shoe box.
The Difference Between Northern Pasta vs. Southern Pasta—a.k.a. Marco Polo vs. the Arab Invaders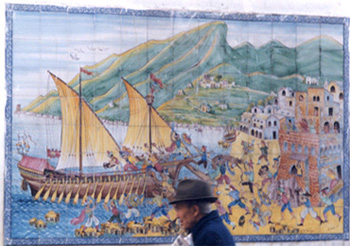 Pasta came to Italy in two ways: Marco Polo introduced pasta upon his return from the Orient in 1295, but this was the perishable, soft kind of pasta, with a texture similar to Chinese and Japanese dumplings. Today people in Italy still make fresh pasta in this fashion, using regular wheat flour, eggs, and water. It is referred to as "dumpling" style or soft pasta, even when it is dried hard.
The pasta made of a simple durum wheat flour (semolina) and water dough, the kind that we purchase pre-packaged at the supermarket, was introduced to Italy by the Arabs in the 9th century through their invasions of Sicily, as depicted in this tile scene on the side of a building in Italy. (Some historical notes mark the invasion as occurring in the 1100s, but our preferred sources cite 827-965 A.D., with the fall of Palermo in 831 and the fall of Siracusa in 878.) The invaders carried dried pasta, which could be quickly cooked in water for a hot, nutritious meal.
Genovese sailors carried the pasta north from Sicily where it was diffused from the markets of Genova to the rest of Italy. By the 1600s, in an industrial revolution in Naples, a process was invented to extrude the dough through a mechanical dye, allowing for large-scale, efficient production of pasta. This brought Naples out of a severe economic depression and allowed the pasta to have a long shelf life.
However, historical traditions, as well as the different varieties of durum wheat that grow in completely different climates and soil types, continue to produce "northern-style" and "southern-style" pasta.
Italy's foods—both grown and prepared—are among the best in the world. Great wheat and artisanal methods make the pastas from Marella or by Alta Valle Scrivia some of the best you will ever have. Going back to a different brand will be hard once you have a taste of them. This is true for the simple shapes like linguine, penne, rigatoni and spaghetti; but enthusiasm generated by the unusual cuts invented by these artisans makes any meal an event. With almost no effort, you can create edible works of art—and different and exciting creations—night after night.
If you love pasta and were to have only these brands for the rest of your life, you would be molto felice. You don't have to go to Italy to find them: the owners of Italian Harvest have done the searching for you. Now the tough part begins: deciding how to begin tasting of all of these wonderful cuts; because the minute you go to the website and look at them, you'll realize how much heavy lifting lies ahead—for your fork.
A selection of these pastas makes a wonderful gift for pasta-lovers, cooks and hosts/hostesses...and Italian Harvest will gift-wrap.
—K.H.
FORWARD THIS NIBBLE to anyone who loves pasta or is looking for a fast and impressive dish to serve family and guests.
ITALIAN HARVEST IMPORTED ARTiSANAL PASTAS

MANUFACTURERS: Alta Valle Scrivia, Giacomo Rizzo, Pasta Ficari, Pastificio Marella, Pastificio Pozzo del Re

Prices vary based on cut & producer
Generally $5.90/pound for
white cuts
Rainbow cuts are approximately
double
Serves more per pound than most
other pastas due to artisanal
techniques (see yellow box for
details)

Purchase online at ItalianHarvest.com
or telephone 1.866.408.4457
weekdays, 11 a.m. to 7 p.m. Pacific Time




Can you imagine making lasagna with these? The green color is
spinach, red is tomato, and yellow is turmeric. Turmeric is a
component of curry, and with lasagna it will work with the nutmeg
one adds to the béchamel sauce. Please call us when it's ready!
From Pasta Ficari ($14.55).

Click here to read about some of our other favorites
in these sections of THE NIBBLE™ online magazine:
Pasta Books







The Pasta Bible

, by Jeni Wright. Simple, delicious and easy to prepare ahead of time, Wright gives you informative advice on how to whip up a pasta meal according to your own skills sets. Most of the ingredients required are fresh vegetables and cheeses, a sign of authentic Italian cuisine. $15.72.

Click here

for more information.

The Complete Pasta Book,

by Michele Anna Jordan

.

This collection of over 200 pasta recipes offers an array of pasta and risotto in an exhaustive variety. Each recipe is accompanied by a photograph as a comparison to how each dish should turn out. $7.25.

Click here

for more information.

100 Ways to Be Pasta

, by Wanda and Giovanna Tornabene. Mother and daughter showcase innovative dishes including Tagliolini with Green Apple Pesto and Speck, in clearly written recipes. A distinctive Sicilian flavor is sprinkled throughout the text, and recipes are divided into types, such as rich pasta, one-dish pasta, soup with pasta, et al. $15.72.

Click here

for more information.
FOR ADDITIONAL INFORMATION, special offers, contests, opinion surveys, THE NIBBLE™ back issues archive, product gift-finder, links to our favorite food websites, and the ability to nominate YOUR favorite nibbles, visit www.TheNibble.com.
Do you have friends who would enjoy THE NIBBLE™?
Click here
to send them an invitation to sign up for their own copy.

---
ABOUT THE NIBBLE™.
THE NIBBLE
™
,
Great Food Finds
™, is an online magazine about specialty foods and the gourmet life. It is the only consumer publication and website that focuses on reviewing the best specialty foods and beverages, in every category. The magazine also covers tabletop items, gourmet housewares, and other areas of interest to people who love fine food. This e-mail from the editors features the top food pick of the week. You can read the complete magazine and past issues at
TheNibble.com
.
To unsubscribe, send an e-mail to Editors(at)TheNibble.com. To contact us with comments or suggestions, click here. If you received this from a friend but would like to subscribe directly, go to www.TheNibble.com.
© Copyright 2004-2015 Lifestyle Direct, Inc. All rights reserved. All information contained herein is subject to change at any time without notice. All details must be directly confirmed with manufacturers, service establishments and other third parties. The material in this newsletter may not be reproduced, distributed, transmitted, cached, or otherwise used, except with the prior written permission of Lifestyle Direct, Inc.