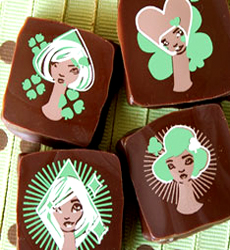 Have some St. Patrick's Green on your ganache—with designer art from Kelly Tunstall on Michael Recchiuti's fabulous chocolate.


SPECIALTY FOODS ARE SMILING.
March roars in like a lion and out like a lamb, and in the middle there's a St. Patrick's Day celebration to plan for. Even if you're not Irish, you can celebrate Irish foods!
To celebrate National Peanut Month, there's an overview of artisanal peanut butters. March is also Frozen Food Month, and there are some exceptional frozen specialty foods, starting with hors d'oeuvres and snacks like Havana Roadhouse Cuban Sandwiches, and concluding with amazing artisanal ice creams, like Mashti Malone's almost-mythical ice creams and sorbets.
In addition to this monthly online magazine, we e-mail our top food pick of the week to opt-in subscribers. If you don't already receive our Top Pick of the Week, click here to have it delivered directly to your e-mailbox. Of the thousands of specialty foods we taste each year, these 52 weekly recommendations are our favorites for both home use and gift-giving. You won't want to miss them!
To read past issues of THE NIBBLE, click here. To see the most frequently read articles, click here.
We look forward to your comments and any suggestions you have about how we can make THE NIBBLE™ magazine and newsletter more valuable to you. Click here to send us a note.


THE NIBBLE™ does not sell the products we review or receive fees from recommending them.
Our recommendations are based purely on our opinion,
after reviewing thousands of products each year,
that they represent the best in their respective categories.


Related Food Videos:



For more food videos, check out The Nibble's Food Video Collection.


© Copyright 2005-2015 Lifestyle Direct, Inc. All rights reserved. Images are the copyright of their respective owners.