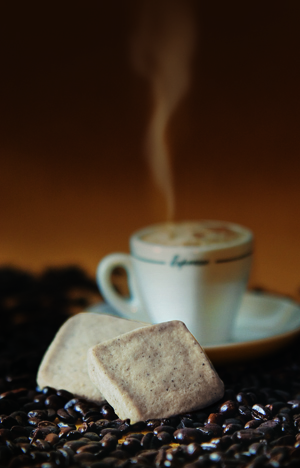 Enjoy your coffee, cappuccino or espresso with the perfect shortbread cookie. All photography courtesy of Biscoffee.
WHAT IT IS: Shortbread for coffee lovers.
WHY IT'S DIFFERENT: To our knowledge, it's not just different—it's unique!
WHY WE LOVE IT: (a) Who doesn't like good shortbread? (b) We love coffee. (c) Biscoffee does a terrific job of combining the two.
WHERE TO BUY IT:
ShopOrganic.com


Biscoffee: Shortbread Cookies For Coffee Lovers

CAPSULE REPORT: America loves a good cup of coffee. Now, there are shortbread cookies to go with those fine grinds.
The makers of Biscoffee have enhanced a classic Scottish shortbread recipe by adding ground organic and Fair Trade coffee beans from Brazil, Ethiopia, Mexico, Peru and Sumatra. Three different cookie flavors pair with the spectrum of coffee favorites: Mocha for the everyday, Espresso for strong tastes and Cappuccino for the lighter ones. While it appears as specks of ground coffee in the shortbread, the flavor of the coffee blends quite elegantly with the buttery richness of the shortbread.
As the company says, this is "real shortbread created with real coffee for real coffee lovers." As we say: Why can't we buy Biscoffee shortbread everyplace we stop for a cup of coffee? (We're not going to name names, but you know who you are, and you don't sell any cookies as good as these.)
The shortbread is packaged in attractive boxes with eight cookies as well as in two-cookie grab-and-go packages. The line is certified kosher (dairy) by OU.
It's National Fair Trade Month, a perfect reason to celebrate with these delicious cookies and some excellent Fair Trade coffee (the coffee is our Top Pick Of The Week next week). Read more about Biscoffee in the full review below, and stock up for holiday gifts.