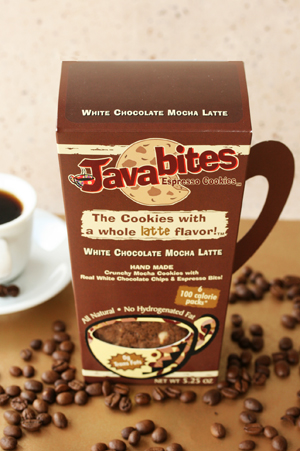 The boxes of espresso cookies have their own coffee cup handle. Photography by River Soma | THE NIBBLE.
WHAT IT IS: Espresso-flavored cookies in six varieties.
WHY IT'S DIFFERENT: Great espresso flavor in a crunchy cookie.
WHY WE LOVE IT: Aside from the flavor, we love the 100-calorie two packs.
WHERE TO BUY IT: Amazon.com (six varieties available—see next page). Learn more at JavaBites.com

Java Bites Espresso Cookies Page 2: Cookie Varieties
Varieties Of Espresso Cookies
Stir Crazy Creations likes to say that their espresso cookies are made "with a whole latte flavor." We agree.
The all-natural, crunchy cookies are made in five flavors that sound like the menu at your favorite coffee bar.
The cookies start with an espresso cookie base; then layer the flavor with add-ins.
Almond Mocha. Mocha is a combination of coffee and chocolate flavors. This cookie is packed with bits of espresso beans and milk chocolate chips, plus almond and chocolate flavor.
Chocolate Chip Espresso. If your ideal chocolate chip cookie also includes with bits of espresso beans, here it is. It's also a great idea for your home-baked chocolate chip cookies: Add 1/4 cup of crushed espresso beans to your recipe.
Cinnamon Cappuccino. A caffeinated Snickerdoodle, this cookie with cinnamon and vanilla notes is powered up with bits of espresso beans.
White Chocolate Mocha Latte. This mocha cookie is filled with white chocolate chips and bits of espresso beans.
White Chocolate Vanilla Latte.
If your mouth is watering, there's shopping information next page.
Put these espresso cookies on your holiday list as stocking stuffers and gifts for teachers and helpers.
Learn more about these cookies on the next page. Before you click away, look at the article index below.