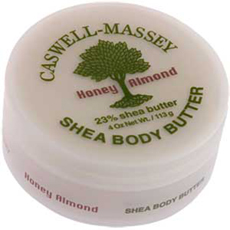 Honey and almond are a delicious combination in this butter, providing ultra-softening ingredients to moisturize exhausted skin.
August 2006

Caswell-Massey Honey Almond Shea Butter
A Delectable Emollient For Dry Skin

Caswell-Massey has been around for about 250 years, enough time to develop an extensive selection of items for head to toe. Our favorite is their line of Honey Almond Shea Butter products. Each contains the fat of the oil-rich nut of the karite tree, shea butter, prized for its skin-nurturing and moisturizing properties. The line includes a body butter, a balm stick, a lip balm, foot cream and body soap. No body part gets left out to dry, as it were.
The quality of the emollient is superb—more so than than similar products we've tried from other manufacturers. The honey-almond fragrance smells good enough to eat: we felt as if we had covered ourselves with the finest-quality honey. Almond is the initial note, but it is soon taken over by the scent of the honey, which lingers and lingers. We felt like Cleopatra, enveloped in luxury.
The Shea Body Butter is made with 23%, top-quality shea butter; it is quickly absorbed into the skin. The Shea Butter Balm Stick, meant for spot touches to very dry areas, is 98.5% shea butter. The shea extends to a soap (23% shea) and foot cream (15% shea). We happily bade farewell to dry skin and are now supple, glowing and scented like the Queen of the Nile.
caswell-massey

Honey Almond Shea Butter: Balm Stick, Body Butter, Foot Spa Cream and Soap

For more fragrances and products visit, at Caswell-Massey.com.

Shipping additional. Prices and item availability are subject to change.



The shea butter balm is a quick fixer for dry skin when you are out. We don't even need to take the foot balm with us wherever we go because it does its job well at home.




Related Food Videos:



For more food videos, check out The Nibble's Food Video Collection.


© Copyright 2005-2015 Lifestyle Direct, Inc. All rights reserved. Images are the copyright of their respective owners.