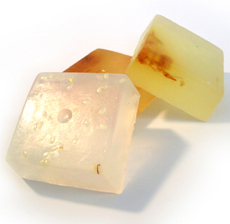 Elegant glycerine soaps that naturally moisturize the skin as they beautify their environs

.

August 2006

L'Atelier Du Savon
Artisanal Glycerine Soaps From A Top Paris Workshop
L'Atelier du Savon is a small artisan workshop in Paris that makes beautiful soaps for a discriminating clientele who demand the best. Their line of beautiful soaps mix artisan soap-making techniques with modern Parisian flair, and elevate an average bathroom to an elegant washroom. Their gentle mousse-like lather from the moisturizing, pure glycerin-based soaps leaves one's skin clean and smooth. Their presentation is a work of art. The liquid pump soaps and bars look like glowing jewels; the loofahs look like exotic items from the sea.
The best part about these soaps? Their distinctive scents beckon to the food lover, in fragrances like:
Citron Vert: Persian lime, lemon and eucalyptus
Concombre: cucumber, grass and spring rain
Feuille de Tomate: tomato leaf, basil and grapefruit
Lavande: lavender, sunflower and chamomile
Mandarine: mandarin orange, clementine and freesia
Pamplemousse: italian grapefruit, bitter orange, bergamot and lemon
Tea: black tea, German chamomile and cassis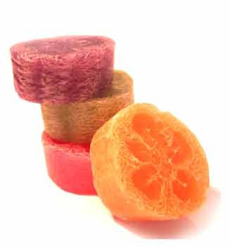 The fragrances are added to the glycerine base through the use of an infusion process that seals in the scents of different herb combinations. The soaps are available in bar, liquid, and loofah form (photo at right).
Liquid soaps come with pumps in handsome oblong containers.
Square, vividly colored Petite Bars contain flecks of bright flowers and organic pulp that shine through the translucent cakes glycerin cakes.
Loofah Bars are a combination glycerine soap bar and loofah: innovative and beautiful.
We like them all as "functional art."

l'atelier du savon

Liquid Soap, Loofah Soap and Petite Bar

Loofah Bar
175 grams
$14.00
Petite Bar
125 grams
$10.00
Liquid Soap
500 ml Bottle
$30.00

Purchase online at UnicaHome.com

Shipping and taxes additional. Prices and scent availability are subject to change.


Glowing jewels: the liquid soaps.



Shipping and taxes additional. Prices and scent availability are verified at publication but are subject to change.


Related Food Videos:



For more food videos, check out The Nibble's Food Video Collection.


© Copyright 2005-2015 Lifestyle Direct, Inc. All rights reserved. Images are the copyright of their respective owners.