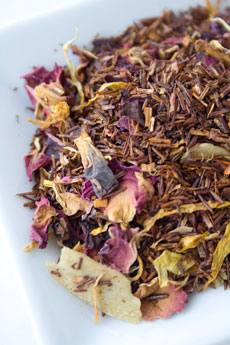 No, that's not potpourri—it's the beautiful artisan tea from Tay Tea. Lovers, above, is a red rooibos blend with Persian saffron, rose petals, hibiscus and marigold petals. Photo by Claire Freierman | THE NIBBLE.

Gourmet Mother's Day Gifts 2011
Page 2: Specialty Food Gifts
This is Page 2 of a two-page Mother's Day gift list. Click on the black links below to view the other page from this year. Also check prior years' Mother's Day recommendations in our Gift Finder and look in any section of our Main Nibbles for Mom's favorite foods.
Prices and product availability are verified at publication but are subject to change. Shipping may be additional. THE NIBBLE does not sell products; these items are offered by a third party with which we have no relationship. They have been recommended because we think they are outstanding products.
Fratepietro:
Bella di Cerignola Olives

The cultivation and manufacture of the Bella di Cerignola olive dates back to a forgotten pre-Christian age. It is distinguishable by its oval shape, larger than other varieties and by the ease with which the flesh separates from the stone. These Italian olives are firm and fleshy, with a sweet, elegant, rich taste that lends well to eating plain, adding to antipasto...or making a very special martini!

Bella di Cerignola Green Olives
550g
$15.00
Bella di Cerignola Black Olives
550g
$16.00


Buy online at Gustiamo.com

Deluxe olives. Photo by River Soma | THE NIBBLE.

Healing Coolers:
Fresh-Squeezed Juices

Healing Cooler produces delicious fresh-squeezed juices designed to pinpoint a specific healthful asset, including Immunity, Strength and Recovery. You can choose your own combo pack based on diet or favorite flavors. The juice is extracted from fresh fruits and vegetables using a hydraulic press, which retains more vitamins, trace minerals and enzymes than other juicing techniques. The result is a fresh and vibrant flavor with a fine and pulp-free texture. Who wouldn't love a case of these healthy treasures?

Gift Box
Six 16oz Bottles & Gift Card
$60.00 (includes shipping)


Buy online at HealingCooler.com

Healthy juices. Photo courtesy Healing Coolers.

Schwan's Home Delivery:

Frozen Meals




Send Mom a gift card to Schwan's Home Delivery. With more than 350 choices, from miso cod to lasagna, Mom will be able to enjoy delicious dinners via the microwave instead of standing at the stove. The large servings ensure that no on will go hungry, and the quality ingredients make take satisfaction virtually guaranteed.

Delivery trucks stop by weekly or bi-weekly. If there's no Schwan's route in Mom's zip code, deliveries can be made by overnight express, with no delivery charge for orders over $100.00.

Buy online at Schwans.com

Check on a zip code: 1.888.724.9267


Ready to microwave! Two of the Nibble Editors' favorites: Lasagna With Meatball Sauce and Pasta With Spinach & Mushrooms. Photos courtesy Schwan's.


Tay Tea:

Artisan Tea Sampler

The Tay Tea collection is the work of a gifted tea blender, who imports premium, loose leaf teas imported from reputable growers, and makes original flavors combined with organic herbs and botanicals. The teas are beautiful to look at, and provide an explosion of tastes for people who want flavor without calories. Each tea blend has a unique, feminine name such as "Wild Woman," "Nefertiti" and "A Day In Provence."


Buy online at TayTea.com

Photo courtesy Tay Tea.

Tea Beyond:
Blooming Tea Glass Teapot

This beautiful hand-blown glass teapot allows Mom to not only watch her pretty floral tea as it blooms, but also keeps it warm between cups. With a pink handle and pink rose crowning its top, this gift is not only functional but serves as lovely kitchen décor as well. The heat-resistant glass is microwave and (top-rack) dishwasher-safe. Packaged with a red ribbon, it makes a delightful and unforgettable gift for tea drinkers or anyone who appreciates quality craftsmanship.

Buy online at Teabeyond.com


Photo courtesy Tea Beyond.

Vonny Los Angeles:
Casserole Carrier

The casserole carrier is the perfect way to tote your favorite dish to family parties, tailgate gatherings, friends' houses or holiday parties. Made with a laminated printed canvas exterior and a bright colored interior, the Casserole Carrier is made to fit a 9x13-inch dish or smaller. It also features an exterior pocket large enough to hold your serving utensils. And with four fun and colorful prints to choose from, Mom will be the most fashionable attendee at the potluck!

Buy online at Vonny.com


Photos courtesy Vonny.





© Copyright 2005- 2023 Lifestyle Direct, Inc. All rights reserved. Images are the copyright of their respective owners.